Connect at APTvirtual
By Lee Ann Stiff on Oct 31, 2020 in Events, News
The apartment industry is meeting online at APTvirtual powered by NAA from Nov. 2-6 to spark inspiration as we all stay connected at home. Once again, Yardi is proud to participate as a sponsor, exhibitor and educator at one of the industry's most anticipated conferences of the year. And what a year 2020 has been. To ensure the long-term success of the industry, Yardi has donated $1 million to the COVID-19 Rental Housing Support Initiative, a partnership with NAA, IREM, NMHC and NARPM.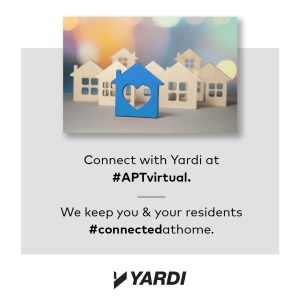 APTvirtual lets attendees engage with the latest developments in the apartment industry, from business best practices to marketing strategies and leasing innovations. You'll also hear amazing stories from this year's Game Changer speakers to kick off each day of the event. The platform is now live, so it's an ideal time to start planning your schedule. We're excited to meet you there. Not registered yet? Use discount code APTvirtual200 for $200 off.
Connect with Yardi: Enter to win!
While our technology helps you and your residents stay connected at home, our various activities at APTvirtual help you connect to the NAA community — and enter to win a major giveaway for a new at-home experience!
First, submit your conference photo to the Virtual Mosaic. It connects digital threads from all over the country that you can watch come to life as a collaborative, branded image. Then, make time to visit with us. We have four virtual booths setup so you can connect with the technology most applicable to you: Yardi for all things operations and big data, Yardi Breeze for simplified property management, RentCafe for marketing and Yardi Matrix for market research data.
Engage with us in our virtual booths using the links below and get a Starbucks® gift card to enjoy coffee on us, plus enter for a chance to win more.
More ways to engage: Tech you can't miss!
Come to the Yardi booth and "Connect with Yardi executives" for a special discussion happening on Thursday, Nov. 5 at 1 and 1:30 p.m. EST (two consecutive sessions). Anant Yardi will be there to answer your questions and share insights along with Esther Bonardi, Terri Dowen, John Pendergast and Chris Ulep. During the daily expo hours, visit us to connect with experts on the newest solutions for multifamily operators. You'll have a chance to join our breakout rooms on marketing, big data and operations to ask questions and hear from our top innovative experts in the industry. Let us show you why big data is a big deal with Yardi Elevate, including Asset IQ for predictive and prescriptive insights with benchmarking, Forecast IQ for expediting accurate budgets and new Maintenance IQ for shortening unit turns.
Do you have the right technology to meet the needs of today's renters? Join us at the RENTCafé booth for innovative solutions to ensure your properties are ready to meet the demands of a changing market. Give prospects the ability to tour at their own pace and maintain social distancing with RENTCafé Self-Guided Tours. Also, get up to speed with RENTCafé Chat IQ, an AI-powered chatbot that learns and adapts to fit each community. Stop by and we'll show you a chatbot designed specifically for you.
At the Yardi Matrix booth you can learn how to utilize market intelligence to identify value-add investment opportunities. Newly added estimated DSCR and LTV data helps you easily find distressed properties, benchmark current performance and plan future financing decisions. Schedule a personal demo to see this new data set. We'd also love to show you Yardi Matrix Student for insight into purpose-built and shadow market properties surrounding over 1,000 colleges and universities across the U.S.
Visit the Yardi Breeze booth to see why thousands have switched to our refreshingly simple property management platform. Breeze offers everything you need to market and manage your portfolio from anywhere, on any device. Simple pricing and convenient monthly billing make Breeze easy on your budget too. Ask about Breeze Premier for the same intuitive experience with advanced accounting, job costing, automated invoice processing and other exciting features.
Educational showcase: What you need to know!
APTvirtual has a compelling lineup of educational sessions, so be sure to check the conference schedule. Join the Yardi team alongside industry experts Shawn Cardner from Grubb Properties and Joe Anfuso from MG Properties Group to get the scoop on innovations that are revolutionizing property management. Mark your calendars for:
Big Data, Benchmarking and Forecasting: A Tale of Two Studies
With advances in big data, machine learning and artificial intelligence, the ability to manage your business with laser precision has never been greater. Measuring performance against powerful operational benchmarks allows you to identify improvement opportunities that have long been hidden. Using predictive and prescriptive analytics for marketing and leasing helps you make changes timed with shifts in occupancy and traffic, shaping future outcomes and driving more revenue. Learn how industry leaders are applying these new tools and realizing gains.
Let's keep our connection going
Not attending APTvirtual but want to learn more about our solutions? Connect with Yardi's multifamily resources for asset performance, marketing and procurement.