Utility Expenses
By Erica Rascón on May 14, 2019 in Energy, News
Want to make your property more appealing to prospects? Keep their bills low. Senior living clients love to save money. Even more so, they love knowing that their housing provider is taking additional lengths to make saving money easier. By focusing on utility expenses, you're creating value and enticing customers with cost savings.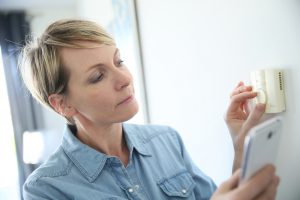 Cost savings on utilities aren't traditionally sexy in advertising. It's hard to make submeter installation look exciting. But money saved has proved to be appealing to seniors, especially when the savings are complemented with improved efficiency and high-quality services.
Sustainability Matters
Baby Boomers value sustainability. A 2018 High Tide Technologies survey of 2,000 adults discovered that Baby Boomers are more frugal than younger generations. Boomers consume less water and electricity. They're also more likely to recycle, compost, and be food waste conscious.
A separate study lead by Pew Research suggests that 36 percent of Boomers have molded lifestyles that protect the environment "at all times." Only 12 percent of Gen Xers and Millennials report similar sentiments.
The two bodies of research indicate that seniors are looking for more than fancy meal plans. They are seeking housing providers that are concerned about the welfare of their finances and the environment.
So how do businesses deliver savings to residents? We sat down with Akshai Rao, vice president of energy and procurement at Yardi, to learn more.
The Need for New Strategies
While lowering overhead costs benefits businesses, that savings can be passed on to residents. Satisfied residents improve the bottom line, offering a win on two fronts for business owners.
"Focusing on reducing consumption doesn't just affect the bottom line, it may make you more desirable to potential residents," says Rao.
But a recent Argentum survey reveals that 49 percent of executives viewed utility costs as a "moderate" challenge.
Rao develops energy management solutions for high-performing buildings. He believes that energy management and sustainability are controllable expenses and can help bolster an organization's bottom line and serve as a differentiator among housing providers.
To reap the maximum savings, Rao encourages operators to explore the benefits of utility technologies. "A cohesive energy strategy can have material effects on the utility expense bucket," he says.
Developing Your Strategy
Remember our sexy utilities motif? It ties in here, too. There are no magic tricks or special pills that will instantly improve your energy strategy. It will take time, effort, and trail. But the work is worth it.
The first step is to automate utility invoice processing. Let your software mine the invoices for data that pertains to properties' energy costs and consumption.
Then comes benchmarking. Compile your data and compare cost and consumption information across your portfolio. You can even use ENERGY STAR to compare your data with information submitted by others in the industry. You high and low performing buildings will stand out. You can look deeper to see what's working and what has room for improvement.
Focus on your least efficient properties first. Take this opportunity to implement foundational conservation principals at the site. This will allow you to see greater ROI without as much investment.
Once the low-hanging fruit is addressed, shift your focus to proactive measures. Perhaps you focus on more efficient lighting techniques for common areas. You may also consider sub-metering to help you identify consumption trends.
"This level of visibility can be incredibly powerful not only for operators, but also for residents and caregivers," says Rao. "Today's seniors show they truly care about their carbon footprint through actions rather than words, and there is ample evidence that just being cognizant of usage changes behavior in a positive direction."
Your proactive measures can become a bit more involved. Complete your due diligence to identify leaks and recover costs. Using remote thermostat management, for example, can decrease the costs lost in unoccupied units. You can experience savings as high as $30-$35 per unit per month. When you consider that senior housing market has an average vacancy rate of 10-15 percent, that's a significant savings for residents and less strain on utility infrastructure.
Consult the Experts
Implementing new technology and analyzing its data comes with a learning curve. Don't go in alone. To get the most out of your investment, consider a company that connects you with 24/7 live customer service.