Power Plays
By Lee Ann Stiff on Oct 7, 2020 in Energy, News
While energy efficiency is important every day of the year in any economy, 2020 is presenting unique challenges along with big opportunities for companies and individuals alike and now is a great time for everyone to take control of energy use and utility costs.
Using energy efficiently is the simplest way to lower utility bills, improve air quality and reduce environmental impact as part of a larger concerted effort. Driven by the mission to save money, cut pollution and create jobs, Energy Efficiency Day on October 7, 2020, is a collaboration of dozens of energy efficiency advocacy groups around the U.S., including the American Council for an Energy-Efficient Economy (ACEEE), Advanced Energy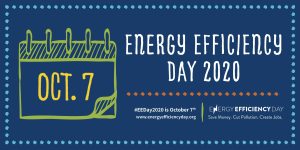 Economy, Alliance to Save Energy, Natural Resources Defense Council, the Regional Energy Efficiency Organizations and many others.
As we come together for the fifth annual Energy Efficiency Day, the event website offers some great tips to deal with pandemic-related utility costs now and through the summer.
A costly lockdown
While working remotely and spending more time at home is helping to stop the spread of COVID-19, it's not helping most people's wallets. For areas in a home that need improvement to increase energy efficiency, workers usually need inside access. During a pandemic, that kind of exposure carries serious safety concerns. If you're not ready to let utility pros into your home, what can you do? Consider a virtual energy audit. Check with your local utility companies to find out if they offer this convenience in your area.
There are also some things you can do yourself to increase energy efficiency and stop the waste. Following are a few highlights and takeaways from the article Pandemic Hurts Efficiency Jobs But You Can Still Make Energy-Saving Upgrades.
Seal the gaps
Check around windows and doors as well as mail slots, electrical outlets and window-mounted AC units. Wherever you find a crack or gap, seal it with caulk or weather stripping.
Replace filters
Keeping your furnace and air conditioner filter clean will ensure they aren't working harder than they need to — which saves you money, lowers emissions and extends the life of your equipment.
Lighten up your bills
Switch your bulbs to LEDs, which use up to 90% less energy to deliver the same amount of light as incandescent bulbs — and they last up to 25 times longer.
Save water
With a high efficiency showerhead, you can save more the 2,000 gallons of water per year, most of which is hot water, so you also get the savings on heating. While you're at it, install an aerator in your kitchen sink — a pressure compensating model ensures plenty of flow power while it reduces water use.
Want to learn more? Get the scoop on ways to save on your next energy bill for tips including ENERGY STAR® appliances and how you can take part in Energy Efficiency Day. For property managers and owners looking for ways to gain control over energy consumption and reduce costs, join a free webinar on energy solutions brought to you by Yardi, named an ENERGY STAR Partner of the Year.