NYC Climate Law
By Joel Nelson on Oct 24, 2019 in Energy, News
New York City's Local Law 97, part of a package of legislation comprising the Climate Mobilization Act, was enacted in May. It's designed to drastically reduce carbon emissions by imposing stringent carbon emission limits for most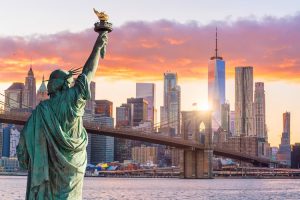 commercial properties over 25,000 square feet. Impacting more than 57,000 buildings and aiming to reduce carbon emissions 80% by 2050, the statute stands as "the most ambitious climate legislation for buildings enacted by any city in the world," according to The Urban Green Council, a New York-based sustainability advocacy group.
The law's emissions calculations consider the total building load, not just base building energy usage. With tenants accounting for well over 50% of usage in many buildings, that means property owners should "carefully vet their business plans and be sure they are planning for this environment, since it represents a significant change for both owners and their tenants," said James Nelson and Terri Gumula of commercial real estate company Avison Young, writing in Real Estate Weekly.
Estimates of what city landlords will spend to comply with Local Law 97 run to $20 billion and up. With the first compliance period starting in 2024, that group is on the clock.
Webinar offers resources
Yardi energy experts Brian Fridkin and Maria Solobay recently presented a webinar hosted by Commercial Property Executive to give property managers tips on easing the transition to Local Law 97. A representative from the New York State Energy Research and Development Authority (NYSERDA), a public benefit corporation that promotes energy efficiency and renewable energy sources, also spoke about programs already in place in the state.
The presenters listed prescriptive conservation measures required by the new law including adjusting temperature set points, repairing heating system leaks, insulating pipes and installing timers on exhaust fans. Additional steps supporting compliance include embedding efficiency requirements in future leases, upgrading lighting and lighting sensors in tenant spaces, and friendly energy-saving competitions.
However, Fridkin pointed out, "For many buildings, just completing the required measures won't be enough to meet the emissions limits in the law." Owners will also need to invest in optimizing heating, ventilation and air conditioning systems, fault detection and diagnostics, and metering equipment. Solar or wind generation installations are other options.
"You can have discussions with tenants about upgrading their lighting or installing occupancy sensors in their spaces, which would reduce their monthly energy bill as well as move toward complying with the law. And you can have tenant energy competitions to see who can reduce their emissions the most. You might also work on switching out tenant HVAC units for more efficient ones or tying in a tenant's HVAC to the building's system," Fridkin said.
A key first step toward compliance is implementing real-time energy management (RTEM) to collect live and historical building performance data. This data helps building owners optimize the building's energy consumption (ultimately reducing greenhouse gas emissions) and prove how the property is performing. RTEM systems can help improve ENERGY STAR® scores, a key consideration because the building types covered under Local Law 97 are already required to complete ENERGY STAR benchmarking every year under another law.
Learn how Yardi technology and NYSERDA incentives support building managers who seek to leverage RTEM. Yardi is an approved vendor for NYSERDA's RTEM program and an ENERGY STAR Partner of the Year.