A Single Solution
By Joel Nelson on Nov 3, 2022 in Energy
A growing need for transparency among real estate managers, tenants, regulators and investors is expanding the value of automated property management technology platforms that centralize operational and financial data.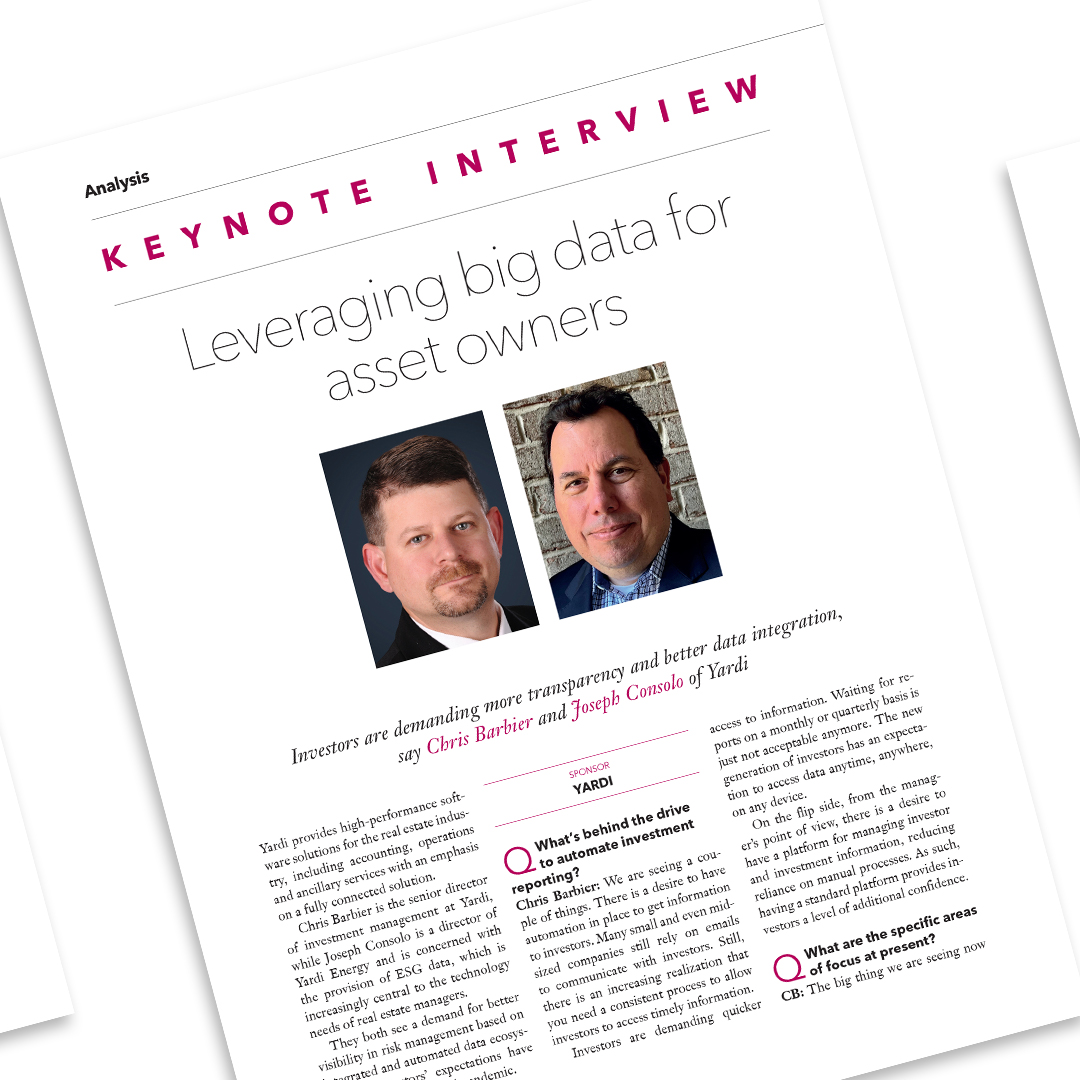 "You need a consistent process to allow investors to access timely information," says Chris Barbier, senior director of investment management at Yardi. "The new generation of investors has an expectation to access data anytime, anywhere, on any device."
That's true with environmental, social and governance issues as well. "Clients need to be able to report ESG data to investors and regulators. They want aggregated data that can be used for multiple purposes," adds Joe Consolo, director of Yardi Energy. "Investors want access to their energy information on the same system as the investment data."
Real estate investment and energy consumption management systems capable of integrating all data are starting to supersede manual systems that rely on email, spreadsheets and other less-efficient tools, according to Barbier and Consolo, who offered their insights in an interview published in PERE magazine.
Why adopt a platform that connects accounting, operations, investment activities and ancillary services? Because, Barbier says in the article, it produces a single source of the truth that encompasses "the underlying asset, rolls into whatever the investment structure is and then ultimately out to the investor, all in one ecosystem."
A similar rationale applies to ESG compliance, Consolo notes. Accurate assessments of energy consumption and greenhouse gas emissions are crucial to property owners' ability to meet emissions targets, prompting many to seek technology platforms that consolidate governance documentation and measure energy, water and waste data in one system.
Risk mitigation is the greatest value proposition for adopting a single connected solution for investment and environmental performance, Barbier and Consolo say. Such a platform enables decision-making informed by full visibility; investor confidence driven by timely access to information; property management staff efficiency from reduced reliance on manual processing; elimination of data transfers between disparate systems; and full compliance with increasingly stringent ESG compliance requirements.
And, Barbier adds, "there are additional efficiencies in having consistent processes at the asset level, which can assist in increasing income and the value of the asset."
Read about those efficiencies and other benefits of using a single connected solution for all aspects of asset management by downloading the full article.