Cities Step Up
By Joel Nelson on May 8, 2023 in Energy
The ENERGY STAR® initiative, which certifies businesses and consumer products that conform with energy-efficient solutions that protect the climate and public health, launched more than 20 years ago. It remains a key U.S. Environmental Protection Agency initiative to reduce greenhouse gas emissions, promote carbon pollution-free electricity and achieve net-zero emissions targets.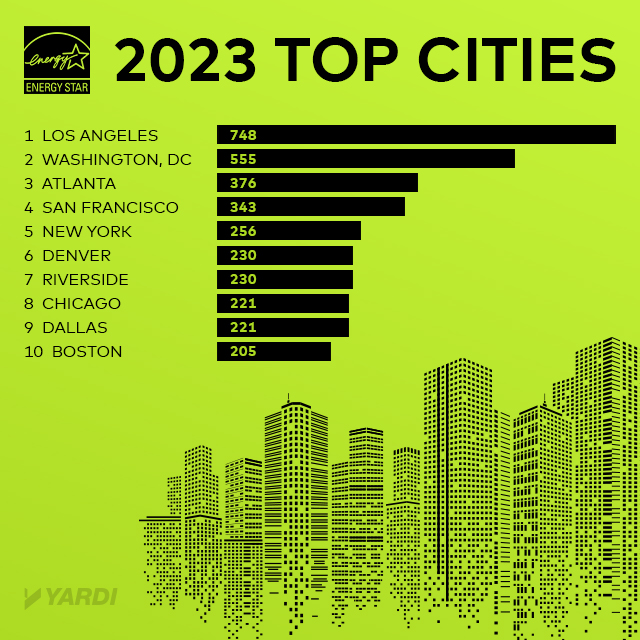 An EPA report in November 2022 noted that energy benchmarking enabled by ENERGY STAR® Portfolio Manager® has grown from 2,000 office buildings in 1999 to more than 280,000 buildings encompassing over 27 billion square feet of space. ENERGY STAR-certified buildings use an average of 35% less energy and produce 35% fewer carbon dioxide emissions than typical buildings.
As part of its focus on commercial buildings, which account for 16% of U.S. greenhouse gas emissions and $190 billion in annual energy spending, the EPA compiles an annual Top Cities list that measures the achievements of metros' ENERGY STAR performance. Here are highlights from this year's list, which encompasses commercial and multifamily properties:
Most certified buildings. Los Angeles came in first in this category, as it did the previous three years, with 748, followed by Washington, D.C., with 555, Atlanta (376) and San Francisco (343). New York City, Denver, Riverside, Calif., Chicago, Dallas and Boston rounded out the top 10.
Most total floor area. Los Angeles and Washington led in this ranking as well with 162.8 million square feet and 149.1 million square feet, respectively. New York and Chicago each exceeded 100 million square feet, with Atlanta and San Francisco close behind with 93.7 million square feet and 92.7 million square feet, respectively.
Most greenhouse gas emissions prevented (measured by metric tons of carbon dioxide equivalent). San Francisco was far ahead in this category, with 2,007,000 metric tons. Washington came in second with 517,200 metric tons, followed by Chicago, New York, Houston and Denver.
Biggest cost savings. Los Angeles was the champion in this category, saving $226 million through ENERGY STAR-related initiatives. Washington was second with $180.7 million, with New York ($170.3 million) and San Francisco ($141.5 million) the other metros to achieve nine-digit savings.
Mid-size and small cities. EPA also ranked smaller metros' ENERGY STAR performance. In the mid-size category, Milwaukee was the leader in the total floor area, emissions prevented and cost savings categories, while Raleigh, N.C., was the building count leader. Among small cities, Punta Gorda, Fla., led in total floor space and cost savings, while Jackson, Mich., topped the building count and Sioux City, Iowa, set the pace for emissions prevention.
"I applaud this year's top cities, as well as the owners and managers of each ENERGY STAR-certified building in them, for taking real action to reduce greenhouse gas emissions and help America address the climate crisis," EPA Administrator Michael S. Regan said in a news release.
See the complete 2023 ENERGY STAR Top Cities report.
Yardi recently received the 2023 ENERGY STAR® Partner of the Year Sustained Excellence Award from the EPA and the U.S. Department of Energy after being named Partner of the Year for five consecutive years. Read the story.