Energy Snapshot
By Joel Nelson on Jan 17, 2019 in Energy, News
The Balance Sheet compiled prognostications on some key energy issues:
Coal stays stable. After a two-year decline, global demand picked up in 2017 and 2018. China accounts for about half of the world's consumption, and growing demand in India and Asian countries is offsetting declines in the U.S. and Western Europe. The U.S. Energy Information Administration (EIA) forecasts that the country's electricity generation share from coal will average 26% in 2019, down from 30% in 2017.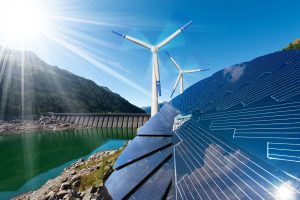 Oil retreats. The International Energy Agency and OPEC cut their forecasts for global oil demand growth in 2019, reflecting lower economic growth assumptions. The last time world oil consumption fell was in 2008-09, driven by surging prices and the recession.
U.S.'s natural gas role grows.  New liquefied natural gas (LNG) plants in Louisiana, Texas and Georgia are scheduled to come online, doubling U.S. LNG exporting capability. China is a key driver of demand as the world's largest gas importer. EIA expects the share of U.S. total utility-scale electricity generation from natural gas-fired power plants to be 35% in 2019, up from 32% in 2017.
Politics play out. Climate politics will ramp up in the U.S. as the 2020 presidential election campaign gears up. In December 2018, leaders in the House of Representatives announced plans to establish a new panel, the Select Committee on the Climate Crisis.
'Smart' gets bigger. Investors and building managers will continue making green practices a core part of their business. "'Smart' buildings are becoming more common because of new technology, which impacts building operations, and provides both efficiencies and connectivity which is increasingly being sought by tenants," says the Counselors of Real Estate, an international property professionals organization. The Urban Land Institute, a nonprofit research and education group, adds, "Real estate has been proactive on sustainability issues for many years. As a matter of self-interest as well as social responsibility, the industry is moving ahead to advance its sustainability performance regardless of the direction of national policy." A 2018 global survey of more than 900 property companies, real estate investment trusts, funds and developers by real estate sustainable performance assessor GRESB revealed a 2.47% average reduction in energy consumption and a 4.91% reduction in greenhouse gas emissions for the year.
Renewables expand. The costs of storage renewable electricity and energy will continue to fall, driven by economies of scale and technology improvements. New capacity and power generation from wind and solar power is growing even in emerging economies. Ethan Zindler, head of Americas at Bloomberg New Energy Finance, says, "We're seeing incredible progress in terms of battery prices coming down, and around the world we're starting to see projects that combine renewables and batteries to undercut fossil generation." And, according to the Deloitte 2019 Renewable Energy Outlook, "The U.S. renewable energy sector remained remarkably resilient, gaining ground despite uncertainty about the effects of federal tax reform legislation and a spate of new import tariffs."
EV sales speed up. U.S. electric vehicle (EV) sales in 2018 exceeded 2017's total by 130%, according to CleanTechnica, New models from Porsche, Mercedes, Hyundai and other suppliers will liven up the market in 2019. J.P. Morgan projects that EVs and hybrid EVs will account for 30% of all global vehicle sales by 2025. Plug-in electric vehicles represented just 1% of auto sales in 2016.
Learn how the Yardi Smart Energy Suite supports energy management and smart buildings. Stay tuned as we track these and other energy developments throughout the year.