Easier Access
By Mike Sederholm on Jan 8, 2018 in News
We have the perfect holiday gift for Yardi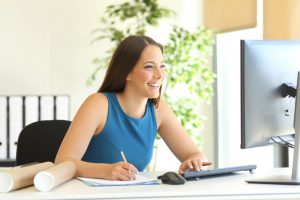 eLearning users: fewer usernames and passwords to remember. Yardi eLearning is the newest addition to the YardiOne platform, which means users can get to training resources at the click of an icon.
"There are a lot of benefits that come with being part of YardiOne," said Patty Evans, director of corporate training and Yardi eLearning. "First and foremost is easy access. Being able to get to training materials quickly, including on the job, helps prevent mistakes and boosts productivity. Our clients' employees now have the fastest and most efficient access ever to Yardi training."
The YardiOne interface was a popular topic at both Yardi Advanced Solutions Conferences in 2017. After each demonstration at YASC, clients asked when their favorite app could be added to YardiOne. "Our eLearning clients expressed a strong demand for YardiOne support. We're proud to accommodate that demand with this new feature," said Yves Hajjar, director of product development for Yardi eLearning.
Automated User Accounts
Also new is the ability for client training administrators to use Yardi eLearning to create user accounts much more efficiently. "Users can have a Yardi eLearning account instantly and automatically set up for them the moment they log in to Voyager for the first time. That saves a lot of time and manual data entry," said Evans.
Trainers can also take advantage of a hybrid option, which automates online user account setup even for users who do not use Yardi software. "This makes it possible for organizations to deliver a consistent experience to employees across the organization, include temps, cleaning crews and other staff who may not use Yardi software," said Evans.
Integrated with Leading SSO Software
All of this is made possible by single sign-on (SSO) technology, which authenticates a user for multiple web applications using a single username and password. There are many third-party SSO providers out there, and Yardi integrates with the most popular systems including ADFS, Azure, Okta, OneLogin and more.
"Linking and configuring SSO accounts with Yardi eLearning used to require clients to enter a help desk support ticket. Our clients can now take care of everything without having to ask for assistance. Though of course we're here to help if necessary." said Evans.
More Benefits of SSO
Yardi eLearning clients can expect additional benefits as they implement SSO technology, including fewer help desk requests, more productive staff and easier compliance with strong password requirements. "Passwords are a common point of error and source of frustration. The revolving door of password changes and conflicting rules about complexity can either send users to the help desk more often than necessary or cause them to go down insecure routes, such as writing a list of passwords on a post-it note and then sticking it to their monitor. SSO is a proven method to prevent and solve many of these issues," said Evans.
Want to make your staff training program more effective? Provide compelling, consistent content easily accessible from any device connected to the internet. Training materials include live courses, webinars and self-guided classes with multimedia content and links to practice environments. Log on to Yardi.com/eLearning or call 800.866.1144 to learn more.