Creative Coworking
By Katrina McDowell on Dec 20, 2022 in Coworking
As companies embrace hybrid work, flexible workspaces are becoming a popular solution for many employees. But how can owners and managers of coworking space – which is in major growth mode – raise the bar and make coworking spaces not just attractive, but irresistible? Here are some creative ways to attract workers to coworking spaces.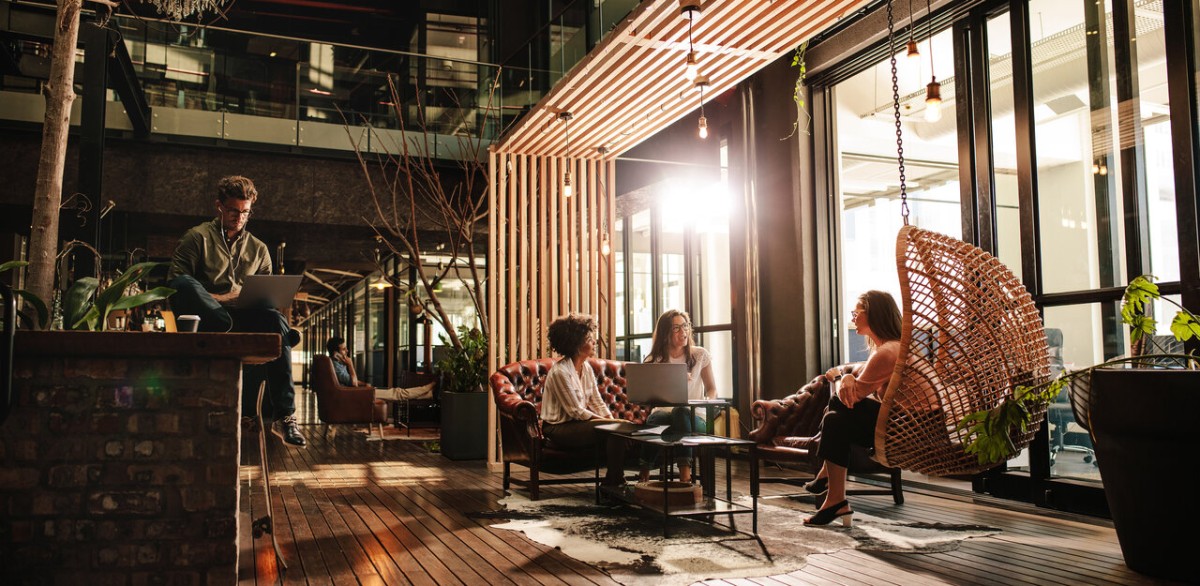 The main advantage of coworking in flexible spaces is typically the open-plan space designs. Gone are the cubicles and assigned desks. Now you can have more room to enable collaboration with team members and other users in the office. But let's take it up a step further and include a robust coffee and snack bar
Include all the fancy fixings for coffee and cold brew, like syrups and creamers. You can include a snack bar with healthy options of various protein bars, fruits, and plant-based snacks. If your budget cannot bring the amenities into the office space, pick a location close to a trendy coffee shop. Think outside the typical Starbucks coffee location and look for a popular local coffee café. Coffee shops that offer a variety of drip coffee, CBD coffee, artisan coffee, and even various teas will be more attractive than just a typical Starbucks or Dunkin Donuts.
Another creative way to attract employees to flexible coworking spaces may be to have the office next to a doggie daycare facility. Since the pandemic started, many people have become very close to their fur babies. Leaving Snoopy at home all day alone is traumatizing for both owner and dog. Some doggie daycare facilities may even offer a discount for businesses nearby. Workers can come and have a focused workday, and Snoopy can have a day of play and exercise. You could even take it a step further and have a pet-friendly facility. Just be sure the dogs are well-behaved and up to date on vaccines, along with having strong liability waivers in place.
The location of your flexible coworking office space is vital. Parking will need to be provided since parking at a meter on the street or in a public parking lot can get expensive and inconvenient. You also want to consider if there are restaurants around for lunch breaks. If those are limited, contact some standout local food truck vendors. Find various food truck vendors to come out and cater that day here.
An additional perk of the location would be close to a local gym. Again, some gyms may offer discounts to nearby businesses. There are many different types of gyms, from yoga studios to CrossFit gyms. Pick something that might provide a variety of workouts so it appeals to everyone. Another idea would be to consider a location close to a park. That way, you can all go on a midday walk and feel energized when returning to the "office."
Lastly, offering high-end technology is key to supporting a productive work environment. From high-speed internet and printers to HVAC systems and touchless technology, investments in innovation make a difference and positively impact users.
Flexible workspaces are a popular option for occupiers in the future of work. Yardi Kube coworking software can help ensure that your flexible workspace tends to user needs.