Commercial Space Management
By Erica Rascón on Mar 31, 2021 in News
The first annual CoreNet Corporate Real Estate Week was a success! The virtual international conference aims to "commemorate, educate, inform, and connect the world to all that our often under-recognized profession does to advance the economy." More than 40 sessions offered insights and networking to commercial professionals globally.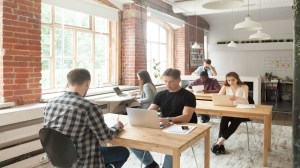 Three sessions educated attendees on the benefits of flexible workspaces and the tools available to manage them.
The benefits of hybrid workspaces
The "Hybrid Working and the Ubiquity of Space" session offered attendants the opportunity to explore best practices in hybrid work models. Panelists presented practical ways that landlords and employers can optimize hybrid work models by adopting flexible workplaces and customized software.
Switzerland-based IWG CEO Fatima Koning and Gareth Haver, CEO for the Asia-Pacific, Africa, and Northern, Central and Eastern Europe regions shared what's working for them:
"The office is not in one place any longer—it is everywhere," said Koning. She observed that flexibility and mobility rank high on tenant demands. Traditional office space is not obsolete, but employees want (and often need) the ability to work from different settings. This includes but is not limited to their homes.
"Traditional models will no longer accommodate the workplace and workers of the future. The new standard of hybrid work promotes efficiency and connectivity, and technology is a big part of that. More advanced and empowered technology can enhance not only occupancy planning but also the overall work experience," said Koning.
While the pandemic expedited the adoption of remote work policies for many commercial companies, the trend towards remote work has been on the rise for years. Employees gain a better work-life balance, shorter commutes, and designated time for collaboration.
Haver adds that employees aren't the only ones to benefit from hybrid models. Employers gain:
lower costs
higher employee performance
staff retention
and the environmental benefits of reduced travel
Optimizing flexible workspaces with technology
Creating destination office experiences requires a blend of traditional and flexible work modules. The hybrid model fulfills its potential with technology.
The "How Technology Can Help Landlords Attract Post-Pandemic Tenants" session approached tech options for flexible workplaces. Panelists advised owners, employers and space coordinators to investigate functionalities within software products. One nonnegotiable feature is customization. Software must be malleable enough to meet tenants' unique needs.
Tony Josipovic is the executive director of global product management at JLL, a Yardi client. On the panel for "Dynamic Occupancy Management for the Hybrid Workplace," Josipovic addressed strategies that he believes will replace traditional operations.
JLL currently advises clients to adhere to a "dynamic space-planning model." The model includes seating zones as well as short-term and long-term zone reservations. A reservation system permits shared workspaces for employees with regularly scheduled cleaning sessions between visits. Tenant can remotely control access via smart locks. Josipovic recommends digitizing manual processes for space usage data and using AI to improve services.
Front-end interface will determine the success of a solution. Space management software should offer easy accessibility to employees. Connectivity is only the beginning, panelist proposed. Helping tenants and their employees engage with the in-building experience is essential.
Touchless technology is also a major consideration in the post-pandemic future. Contact-free doors, personal storage, conference rooms and desks are in demand.
Join a webinar to learn more about commercial shared space management tools for workplaces of the future.