Chasing Excellence
By Lee Ann Stiff on Sep 8, 2019 in Events, News
Real estate industry leaders and professionals are heading to San Francisco on September 23-26 for the 2019 IREM Global Summit. IREM is the largest organization dedicated to advancing the profession of real estate management, and Yardi is a proud sponsor of IREM's must-attend annual event which hosts approximately 800 top real estate management professionals from across the U.S. and around the world.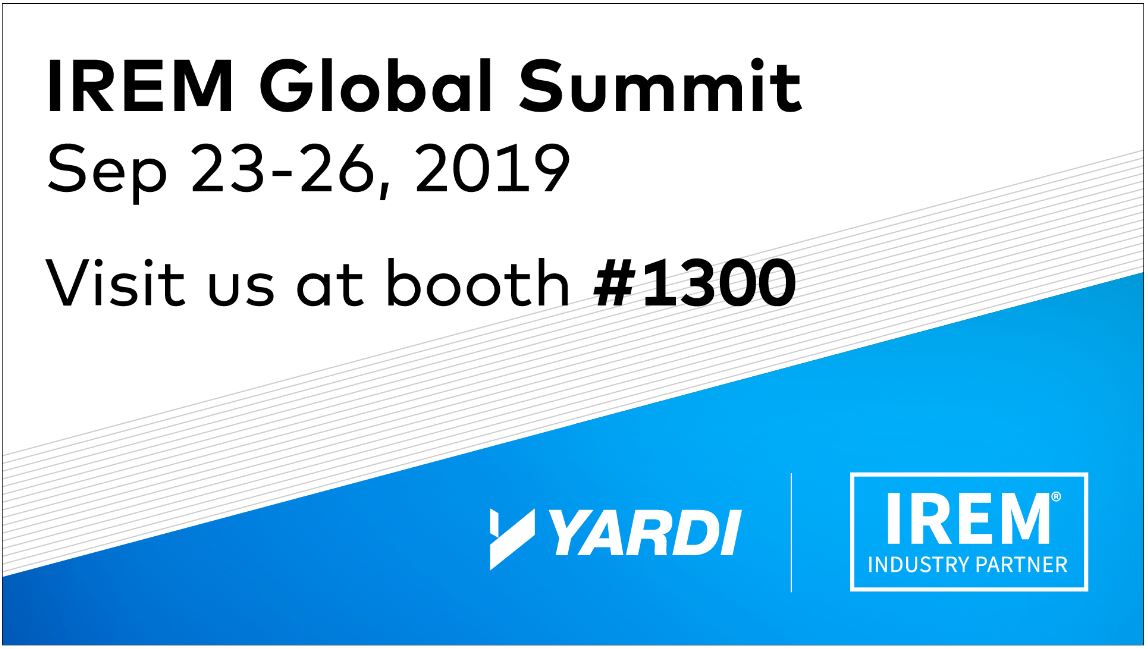 "The IREM Global Summit provides a fantastic opportunity for real estate managers to get together and prepare for exciting new opportunities and challenges facing our changing industry. Yardi is proud to participate in this important event and share our innovative solutions including Yardi Elevate for big data that drives results for commercial and residential managers pursuing excellence," said Esther Bonardi, vice president of marketing at Yardi.
IREM has designed the event to expand knowledge through educational sessions that support professional growth and leadership development. Attendees come from the U.S. and Canada, China, Japan, Korea, South Africa and Brazil and gain value meeting with colleagues to build camaraderie and stronger relationships.
Read on for the top three ways to connect with Yardi at the IREM Global Summit.
Attend Educational Sessions
This year's schedule features 19 hours of educational sessions to empower attendees to move their careers forward. Sessions are based on real-world situations that property managers face daily, from opportunities to use technology to work smarter to difficult interpersonal scenarios.
Don't miss a potentially life changing session sponsored by Yardi. Join the famous sketch comedy group Second City for "Facing Forward: Using Improv to Embrace the Future" on September 26 at 8:15 a.m. In this fun interactive workshop, improvisers will lean into moments of uncertainty to see them as pure potential and will learn improv techniques to help them embrace the future and connect to opportunities. Leave this session re-energized to meet industry demands and whatever comes at you next by applying the principles of improv to move forward on personal, professional and organizational levels.
Visit Yardi's Booth
Stop by booth #1300 to meet our team and get an up-close look at Yardi Elevate for big data to drive portfolio performance with predictive analytics and more. Yardi experts will be on hand to answer questions and demonstrate new products for both commercial and residential portfolios.
Schedule your demo today — we look forward to connecting with you in person.
Get More Answers Online
After (and even before) the event, the learning never stops. Check out our new resource to discover how your peers are succeeding with innovative technology including big data. If you've ever asked yourself "how do I use predictive analytics?" or "how do I shape future outcomes?" among other queries, this is the online resource for you.
Can't make it to the event? Join a Yardi webinar or schedule a Yardi Elevate demo — and you won't miss out on learning more about our solutions to help you achieve real estate management excellence.