Building Community
By Erica Rascón on Dec 9, 2014 in News
The warm weather months are kind to leasing agents. Residents don't need much incent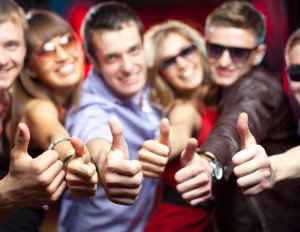 ive to come to the outdoor community parties. The colder months, however, can bring the fun of an active community to a grinding halt. How and where can onsite staff host resident events during the colder months? We've got four fun community event ideas that are indoors, affordable, and sure to build a sense of community and belonging for your residents. Lease renewals, anyone?
Local Gym During the winter, many people are planning or executing their New Year's fitness resolutions. Local gyms are eager to recruit new members and you're eager to find an affordable, fun place to host a party. Pick the best equipped gym near your community and let your interests combine! Work up a deal with your local gym: request free guest passes (which most gyms offer anyway) and you'll supply their potential, future members. Get residents together for games of basketball, racquetball, or popular Zumba and yoga classes. The more that the gym has to offer, the more opportunities your residents have to bond and maintain their New Year's resolutions. The best part: residents will likely join the gym and find workout buddies amongst neighbors, adding two more reasons for them to love your community.
Aquatic Center Who says you can't swim in winter? Check out your local aquatic center, often hosted by the county. Many centers, especially those constructed within the last decade, have indoor pools, heated indoor pools, saunas and hot tubs. Space rentals are often quite affordable, especially in the winter when business is slow. All that is left for you to do is supply a few light snacks (because no one wants to swim on a full stomach).
Dave and Busters D&B offers group discounts and spacious private rooms, ideal for community parties. Since all locations offer food, drink, and gaming options, you have a full evening of fun and activities planned with very little planning. There are activities for attendants of all ages. The best feature: it's a cakewalk for you! You can be responsible for as much or as little as your will and budget allow. The property can cover the room rental and maybe a few drinks and game cards—or not. Leasing staff is not responsible for decorating, carding, ordering food, or babysitting. Simply make the arrangements and you're done!
Pub Crawl Bar hopping has always been popular with young adults and if done well, it's an easy way to get residents involved while building community and supporting local businesses. If your community owns a van, your job is halfway done. If not, rent one, some are as cheap as $150 for 24 hours. Next, contact locally-owned bars and let them know what you're planning. Many will be glad to accommodate you, especially on slower nights like Thursdays; some will even offer samplers. If they don't, suggest it—you're bringing them business! No worries if they don't, though. Pick three or four bars, a designated driver licensed for large vehicles, and you're set to win the best leasing agent of the year award!
Plan to spend at least 45 minutes at each bar but be flexible just in case some bars are hot and others are drowsy—you don't want to bring down the mood by making residents stay at a bar with no energy. Note: rallying your residents in a crowded pub could be tough. Have residents create a sign-in sheet with phone numbers so that you have a point of contact. It also helps to pick a theme or even a color. Finding 12 people in solid white and party hats is much easier than finding 12 people who are dressed differently.
What winter event ideas have been successful in your community?