Building Better
By Erica Rascón on Sep 25, 2020 in News
Bricks are a burden. For more than 5,000 years, we've used the same inefficient, environmentally destructive products to build homes, businesses and institutions. Their cumulative effects left landscapes barren, air polluted and contributed to warmer climates. Innovation is in place for smarter bricks—if the industry is ready to get onboard.
The life of bad bricks
Clay bricks are respected for their durability and simplicity. Unfortunately, the benefits stop there. Mining clay requires stripping landscapes of their plants, trees and topsoil. The sublayers of soil and stone are inhospitable to plant life, leaving bald scars on the landscape for at least a decade.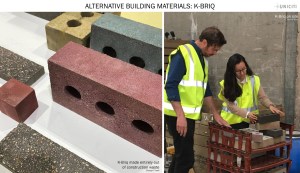 Once mined, raw materials are transported to kilns where fossil fuels bake bricks at 2,280°F. Carbon emissions continue to climb as the finished product makes its way to distributors and work sites.
At the end of their lives, companies demolish bricks and ship them off to landfills. Except for very few historic sites, bricks are not recycled or repurposed: to do so, workers would need to scrape off old mortar by hand. But more importantly, the industry does not have an efficient way to test the integrity of reclaimed material. It all becomes trash.
Geological damage, long-term environmental concerns and poor disposal practices make our old bricks our new bad news. Fortunately, a team of innovators at Geotechnical and Geoenvironmental Engineering at Scotland's Heriot-Watt University has created better bricks that can usher the industry into the future.
Maybe.
Stepping out on a limb (with the others)
Professor Gabriela Medero set out to reinvent the brick. She knew that sustainable building would require more sustainable building materials. The outdated practice of brick making desperately needed modernization.
"It's the exploitation of natural resources, it's the… massive volumes of waste, together with the massive volumes of carbon emissions," Medero said in an interview with CNBC. "We need to change."
Medero collaborated with engineer Sam Chapman to form Kenoteq in 2009. Together, they developed Mederos existing work to create a brick that was more sustainable from start to finish without sacrificing durability and affordability.
After ten years of research, Kenoteq introduced K-Briq to the world. It performs like a brick—viable for internal and external load-bearing applications—and the two products weigh about the same. K-Briq, however, is composed of more than 90% construction waste which keeps bricks, gravel and plaster products out of landfills while keeping trees and topsoil undisturbed.
Manufacturing and distribution are also more sustainable. Creating the brick is an efficient process that cuts carbon emissions by 87% – 90% compared to conventional bricks. Kenoteq is also developing machinery to facilitate on-premises recycling at plants, slashing carbon emissions even farther.
K-Briq offers twice as much insulation as concrete products, and it is better insulated than conventional bricks. The improved thermal values aid in other sustainability measures that focus on resource conservation, such as automated energy management tools.
Discover energy benchmarking solutions for enhanced sustainability.
Price, of course, was the final hurdle. Thanks to a funding agreement with Scottish Enterprise and the Royal Academy of Engineering, brick and K-Briq pricing are now comparable. There are additional efforts to scale production, which will help reduce pricing and increase availability.
K-Briqs are superior to classic bricks in every way, and have received certification from the British Board of Agrement. K-Briq joins a community of state-of-the-art building products that pave the way for a more a greener future.
Competitors in peace
Several brands are leading the charge to better building. U.S.- based Green Leaf Brick is composed of 100% recycled and at least 30% post-consumer content. The bricks meet certification requirements for facing brick and are classified as Severe Weather materials, meeting the highest performance standard. WasteBasedBricks and ClickBrick of the Netherlands and Qube of India are among the international players.
Those brands, among others, have successfully crafted products that reduce carbon emissions, redirect landfill waste, and exceed conventional brick performance while providing greater sustainability in multiple fronts.
So why aren't more projects implementing brick alternatives?
Decades-old tech, still few takers
Alternative brick products outperform conventional bricks, and many have been available for more than a decade. There are a few major reasons why the innovative products are slow to make their way to market en mass.
Primarily, the industry is slow to change. The unrecorded but acknowledged truth is that market rate development, construction and real estate are arenas dedicated to the formation (and preservation) of established relationships and proven products. New players have a tough time vying for contracts.
Secondly, many new brands have difficulty scaling. Without large contracts, they rarely secure the capital needed to mass produce. Yet without the ability to mass produce, they're unable to accommodate large or multitudinous projects. It's a frustrating cycle.
Kenoteq is fortunate to have financial support from Scottish Enterprise and the Royal Academy of Engineering.  Few groundbreaking building brands have major players on their side.
When relationships and funding align, there is yet another hurdle. In the absence of sustainability-centered legislation, there is too little incentive for massive change. In the U.S., for example, green building legislation and incentives fluctuate with each administration.
In the end, better building brands are fighting an uphill battle. That doesn't dissuade innovative thinkers for pushing forward with products that are better for the environment and wallets. Kenoteq is up for Product of the Year at the National Recycling Awards 2020.