Better Health Assessments
By Joel Nelson on Nov 17, 2020 in News
A registered nurse quoted on the American Assn. of Nurse Assessment Coordination's website says that obtaining baseline patient health data "is an invaluable tool to us in long-term care. It involves so much of the nurse and her relationship with the resident and getting them to get to that highest level of function. It is so important, it's so exciting, and it's a tool that just drives great care."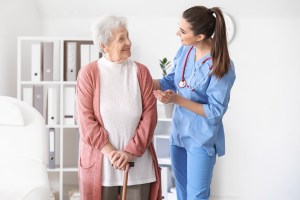 Completing that assessment, known as the resident assessment instrument minimum data set (RAI MDS), is a mandatory element of guiding resident care planning and monitoring in long-term care settings. But compiling the required information manually often involves uncoordinated efforts by multiple parties who don't always know if the information they're dealing with is current.
Nurses, administrators and other senior care providers now have the means to complete the RAI MDS process more easily and accurately. Yardi Long Term Care, a new mobile electronic health record solution available in Canada, saves time and eliminates errors by automatically prefilling the RAI MDS with data from previous assessments through electronic workflows. Staff members updating an RAI MDS don't have to spend time entering data or backtracking through a lengthy paper trail. Mobile charting that sends resident data from the point of care to the MDS saves even more time.
Yardi Long Term care also tracks frequently changing regulations and automatically checks submissions for fatal errors, missed fields and inconsistencies. It provides a clear audit trail, with user logs, change reasons and up-to-date chart data housed in a centralized platform.
Yardi Long Term Care is the Canadian version of Yardi® Skilled Nursing, a new solution that sends resident data from the point of care directly into the MDS.
"Accurate data from Yardi Long Term Care will equip senior living residence staff to make the best decisions for quality of care. Having every RAI MDS completed on time and to the Canadian Institute for Health Information's standards will also reduce stress and allow more time for resident care," said Peter Altobelli, vice president of sales and general manager for Yardi Canada.
Read how Yardi makes it possible to manage all aspects of senior living care from a single connected solution.