Become a Yardi Ambassador
By Leah Etling on Jan 3, 2020 in News, People
If you are a Yardi client with an affinity for the technology that has helped better your business, the new Yardi Client Ambassador Program might be a perfect fit for you.
This special opportunity for engaged clients is a great opportunity to share feedback, engage on social media, speak with other clients about your tech experience and much more. It's easy to participate and requires only the level of engagement that works for you.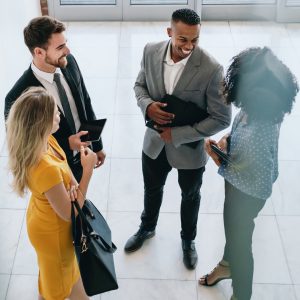 The Yardi Ambassador Program is a direct-to-client engagement program that identifies and engages some of our most enthusiastic, passionate, experienced and strategic clients. These clients reflect Yardi's markets, products, services and priorities and help contribute to our reference program, marketing content creation, and speakers for Yardi's regional and corporate events.
Sean Geraghty, manager of the program, explained how it works:
"The new Ambassador program evolves how Yardi plans to work with some of our most passionate and enthusiastic clients. By formalizing our customer marketing process, we are making it easier than ever to allow Yardi's clients to interact with us on social media, participate in the creation of marketing content, and share their leadership and knowledge by speaking at our many events," said Geraghty.
In other words, we know clients love to hear about other clients' experiences using Yardi products, and this program will help facilitate that.
"We are also making it easier for us to express our gratitude and thanks to our customers by providing fun rewards and incentives to those clients who participate," Geraghty concluded. "We want to dialogue with you. Building on our Yardi history of client relationship prioritization, we hope the Ambassador Program will lead to strong relationships and conversations in the months and years to come."
Highlights of the program for clients include:
Any customer can participate, regardless of company size or length of contract.
Limited engagement includes simply liking social media channels or completing a software review.
More involved engagement includes marketing interviews and sharing your success with Yardi products.
If you are interested in speaking at Yardi events as a client panelist, this is your chance!
Select your level of involvement on our easy online signup form.
Does this sound like a good fit for you? Learn more and sign up here.