Avoiding Coliving Pitfalls
By Erica Rascón on Feb 5, 2020 in News
As a junior, I lived in the Creative Writing Theme House at Agnes Scott College. A beautiful five-bedroom house just outside of campus gave students an opportunity to live and work with like-minded peers. I loved the experience: group meals and activities, weekly poetry readings, and the ability to workshop my short stories with people who "get it." Too bad I wasn't a business major. Then I would have seen the coliving trend coming and profited from it. But the experience did successfully foreshadow the pitfalls of coliving.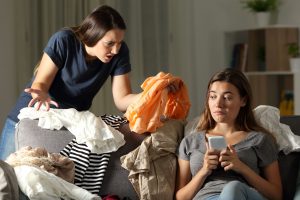 Multifamily property managers, take note. Coliving is trending and is likely here to stay. By avoiding the pitfalls of your competitors, you can optimize your profits for years to come.
What is coliving?
Coliving is all the rage in multifamily housing. It combines the best aspects of Airbnb's short-term rentals and city experiences. Coliving quarters include furnished private studios and multi-person shared flats. Depending on the level of luxury, there are private or shared bathrooms. Common areas usually include the kitchen, laundry room, and exterior spaces. Flexible rents make coliving spaces different than dorms or apartments.
Yet the key differentiator in the industry is the themed living. Coliving communities unite like-minded renters. Participants are often professionals in a similar field, people interested in exploring a neighborhood or city, or less tactile themes like inclusion.
Yardi client Cushman & Wakefiled recently released a detailed national report on coliving. There are a few common features that coliving properties and their residents share:
Property managers within major metropolitan areas are seeing the highest demand for coliving. Such locations offer low rents near popular job hubs.
The average coliving resident is in their 30s.
The average median income of coliving residents is about $60,000 per year.
Additionally, there are a few common characteristics among coliving residents:
Digital nomads make up a notable portion of coliving residents. Remote workers want social interaction without the confines of an office. Coliving combines the best of apartment living with coworking space.
People who have recently transferred to a new city see coliving as a way to make friends and familiarize themselves with the city before establishing roots.
Transient employees often turn to coliving to make friends and get to know the city without committing to long-term, pricy leases.
Missing the mark: finding the balance between privacy and intimacy
Nationwide, surprisingly few people are interested in coliving, reports the National Multifamily Housing Council & Kingsley Associates Resident Preference Survey. Though there is a lot of hype and investment in coliving start-ups, apartment residents aren't sold on the concept. About 69% of survey respondents said they "definitely would not be interested" in coliving.
Why not? Finding the balance between privacy and intimacy is where several coliving developers have missed the mark. Take my stint in a coliving community as an example.
We nine housemates valued our time together. We enjoyed cooking together and attending literary events around town. We got to know each other quite well, including dietary preferences and quirks. Unfortunately, there were frequent meetings where we nearly went Jerry Springer on each other over the messiness of common areas, noise control, and guest management.
Living with strangers will never appeal to everyone. But for those who have considered the option, privacy and intimacy can make or break a coliving community.
Shared bedrooms and bathrooms make it more challenging to control messes and coordinate schedules. There is a greater demand for floorplans with private bathrooms and bedrooms.
Privacy resurfaces as a general concern. Sound proofing and other privacy measures in personal spaces increase resident satisfaction.
Though prospects value privacy, they also value intimacy. Ideal living arrangements are between four to ten residents. Larger housing groups were perceived as less personable and less desirable.
A steady flow of unmonitored guests also interrupts the perception of intimacy. A community can quickly go from cohesive coliving to frat house nightmare without proper controls in place.
Messes matter. Coliving prospects are willing to pay a bit more for the consistent cleaning of communal spaces.
Who is winning at coliving management?
Successful models intelligently balance privacy, intimacy, and cost.
Companies like Ollie of New York offer fully furnished apartments in hot metropolitan areas. Lease agreements include utility fees and weekly cleaning service including linen replacement and bath amenities. A Long Island unit starts at $1,500 per month on a 12-month lease.
Morocco-based Sun Desk is winning the hearts of many with its emphasis on work-life balance. The organization receives high ratings for its organized day trips and excursions. Prices range from €23-46 per day depending on lease terms.
Treehouse of Hollywood gets rave reviews for its floorplans. Residents can live as independently as they'd like, ranging from private studios to four-person flats with shared communal areas. Residents can engage in community events and dinners as well as collaborative work concepts. Because of its luxuries and location, rents start at $1,700 per month.
New York is bursting with coliving developments. Headliners skew towards either end of the spectrum, for luxe accommodations to those that minimize creature comforts for cost savings. An article in the New York Times depicts the practical aspects of coliving that benefit the affordable housing industry. Two-thirds of the units in the new projects are reserved for tenants earning 50, 80 and 120 percent of city's area median income. The lowest rent rings in at $800. Many keep costs low by requiring more shared amenities and services.
Coliving thrives on online leasing. Learn more about flexible online leasing with RENTCafé CRM Flex.