Aegis Living's Leader
By EmilyC on Dec 24, 2020 in News
Editor's note: The author is founder and CEO of Bellevue, Wash.-based Aegis Living, a national leader in senior assisted living and memory care that operates 32 communities in Washington, California and Nevada and has seven other communities in development.
Interacting with our seniors at Aegis Living has taught me so much—not just about life and living, but also about how to live a long and happy life. One of the things I've learned from our "oracles"—which has been confirmed by research—is that having purpose in your life is critical to your health and longevity.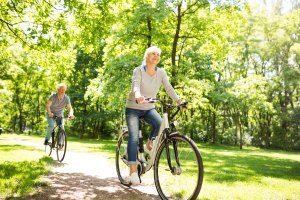 I think of purpose as putting forth effort toward doing things that have meaning for you and having daily, doable micro-goals. For example, if gardening has become a passion for you, giving it a sense of purpose in your life would lead you to read gardening books, talk to neighbors about what they're planting and share ideas and tips, speak to experts at nurseries, and move things around in your yard to improve and enhance their health and visual impact.
A sense of purpose organizes your time, focus, and even relationships. People who have goals and work toward them also feel a sense of self-worth and fulfillment, which helps them maintain a positive outlook on life. I believe that finding a renewed sense of purpose is what takes people into thriving later in life. If you are bored with cooking after many years of doing it, find a new cooking style—or a completely new hobby or pursuit that excites you.
Dedicating physical and mental effort
Hidekichi Miyazaki, a Japanese father of four and grandfather of 10, was 105 years old in 2015 when he completed the 100-meter sprint in 42.22 seconds. He set a new Guinness world record in track and field as the oldest competitive sprinter. He also competed in the shot put event at the Kyoto Masters Tournament.
What struck me most about his life wasn't his competitive running or his race times. It was his sense of purpose. Before he took up track and field at the ripe age of 93, he spent 33 years practicing calligraphy and playing Japanese chess with his friends. Those habits gave him purpose and friendship for many years. But as his friends started to die from old age, he wanted to find something he could do on his own—thus the track and field events. He refuses to "take it easy," and he has set a new goal to reduce his 42.22-second sprint time down to 36 or even 35 seconds.
His story shows that finding that purpose and happiness requires a bit of physical or mental effort—a stretching of the mind and body.
The purpose-happiness connection
Dr. Becky Su, a practitioner of Western and Chinese medicine, has some words of wisdom: "Happiness is contagious. If for one night only you can be a beacon of happiness and joy, by the end of the night, everyone in your presence will be happy."
Her three steps for happiness are simple and profound:
"If you can't change it, don't think about it."
"You have to give yourself permission to be happy.'
"Focus on the beautiful and the good. Your brain is trainable. You're not fixed in your mood, your thinking, how you feel today, or how you'll feel tomorrow."
Keep a youthful perspective
Our attitudes count for a lot when it comes to healthy longevity. It's been shown that if you believe you look and feel younger than your actual biological age, you're likely to live longer than someone who feels his or her age or even older. Becca Levy, PhD, a researcher on aging at Yale School of Public Health, has shown that a positive attitude toward aging can help you live an average of 7.5 years longer.
At our Aegis Living communities, we've discovered that people who live longer and happier lives seem to have some kind of totem that connects them to their younger selves. One resident who was nearly 90 loved to ride the Ferris wheel.
At Aegis' headquarters, I built a treehouse behind the main building, so my staff has easy access to childlike experiences.
It's in your hands
If you believe that aging is defined by how you feel, you're more likely to practice healthy habits, creating a healthier life span. You'll eat foods that fuel rather than harm your body. You'll get the restorative sleep you need, so you have the vitality to fuel yourself throughout the day. You'll move more and sit less. All of these habits will help you feel better—and younger—and, in turn, help you have the best possible health for the rest of your life.
Learn more about Aegis Living and read this article in its entirety. Dwayne Clark also participated in the Changemakers initiative as an innovative thinker in senior living.