ADA in Multifamily
By Erica Rascón on Aug 1, 2018 in News
I've been a proud Atlanta resident for 24 years. While much of that time was spent in the car-dependent suburbs, recent years have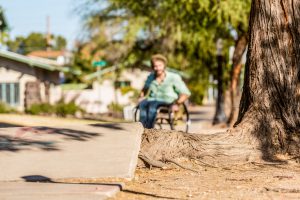 offered the opportunity to explore the bustling city as a pedestrian. It was during a trip to Piedmont Park (the largest park within Atlanta city limits) that I noticed a problem that has plagued city dwellers for decades: precarious pavement.
Cracked concrete slabs jut several inches into the air, forced upward by the roots of established trees and erosion. Those raised surfaces were accompanied by deep potholes and portions of missing concrete. It was an unpleasant ride on my mountain bike. I could only imagine what it must be like on foot or in a wheelchair.
Others have had similar thoughts. On June 11, three wheelchair users filed a class action lawsuit against the city of Atlanta. The suit asserts that the city's walkway infrastructure does not uphold the Americans with Disabilities Act (ADA) statutes. The hazardous walkways make navigating pedestrian thoroughfares dangerous. In many areas, pedestrians must enter the street and contend with automobile traffic just to get around.
A win seems promising for the wheelchair users. Several major cities have emerged from similar lawsuits by paying billions for repairs. Los Angeles, for example, settled a suit in 2015 for $1.3 billion in repairs over the span of 30 years.
Avoid Lawsuits. Be Proactive About ADA Compliance.
If major cities are not exempt from ADA noncompliance lawsuits, neither are you.
Residents are demanding their rights at multifamily properties, too. In 2012, The Department of Justice announced one of the largest settlements to date: the owner of 32 properties had to pay $10,250,000 into an accessibility fund to correct noncompliance issues. The owners also paid a $250,000 civic penalty. Correcting the issues before they became a hindrance for residents would have cost less.
What may seem like a costly repair now can become even more costly during litigation. It's best to avoid the courts while offering your residents of all ability levels access to save pathways and living conditions.
Walk the property with a tablet in hand, ready to take notes and pictures of issues that arise. Below are a few things that you can look out for:
Cracked, gaping pavement
Uneven pavement, often due to tree roots
Unmarked access ramps
Obstructions to walkways such as overgrown trees and shrubs
Broken or damaged handrails
Inoperable elevators
Once those items are addressed to code, then hire an accessibility compliance specialist to inspect the property. By fixing what you know needs to be done first, the ADA specialist can then focus time and energy on the items that you may have overlooked.
Everyone deserves safe, accessible housing. Do your part! If you have questions about ADA compliance, call the ADA Information Line.