5 Fun Holiday Ideas
By Erica Rascón on Nov 13, 2020 in News
Social distancing and partying don't seem to go hand-in-hand. With a little creativity, though, you can host fun holiday events for your community while honoring safety protocols. Check out these five fun holiday party ideas that add value, encourage a sense of community pride and resident loyalty.
Themed partner yoga party
The first step in hosting a successful partner yoga party is to select the location. Warmer locations (ahem, southern states) may still make use of their tennis courts and other outdoor spaces. Cooler climates may consider their roomy community club or renting space in a local brewery or event center. You'll want an area that is spacious and level.
Once you decide where to host your partner yoga party, the rest is super simple! Contact a local yoga studio and request a private teacher for your event. The teacher should be familiar with the basics of partner yoga or acro yoga.
Once the details are set, have residents register via the community concierge. Encourage residents to find a same-household partner and dress in holiday-themed activewear. (Cozy holiday pajamas would work, too!)
On the day of the event, divide your space: every ten feet, leave a sticker, party favor or other marker. That will let duos know where to place the center of their mats. Then the experienced yoga teacher can guide pairs through safe yet fun postures that encourage teamwork, communication and laughter.
If you charge for the event, consider donating a portion of the proceeds to a local nonprofit.
#ShopLocal wine + beer tasting
Collaborate with a local wine shop or brewery for this unique spin on bar hopping and wine tasting!
Many local shops offer tastings that encourage clients to experience new brands or unique beverages. You can replicate the experience while social distancing! Coordinate with owners to set and date and time for the virtual tasting. Owners should curate a tasting list and creat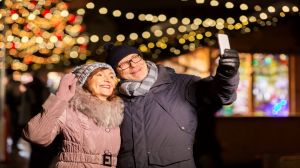 e (discounted) pre-packaged bundles for your residents to pick up. Include the details for the Zoom or Google Meet call in the tasting bundle.
On the day of the event, all residents will have their tasting bundles at home along with the info that need to join the video conference. The shop owner can then educate the residents on the selections in their bundle and lead the tasting experience just like they would in person.
This idea is an excellent way to offer value to residents while supporting local businesses during the holidays.
Drive-thru scavenger hunt
Touring the town to admire holiday lights is a timeless tradition for many families. Encourage community participation by creating a drive-thru scavenger hunt.
Curate a list of local landmarks with memorable holiday decorations. Then create a list giving clues of what to look for and where. Here are tips on creating a successful scavenger hunt for adults.
The old-school way for participants to "find" an item is to write down the address where they found the decorations. The modern (read: more marketable) way is to have participants take a selfie with the decorations in the background and post to social media. Of course, they must tag your organization for it to count!
Scavenger hunts are a fun way to reiterate the value of your location and bolster the holiday spirit.
Volunteer + donation competition
Tap into the (competitive) holiday spirit! Curate a list of local nonprofits that are accepting in-person volunteers. Encourage residents to support these organizations and log their hours. The resident, floor or building with the most hours win a prize. Consider free covered parking, gift baskets and other low-to-no contact goodies. Some organizations and families may be more comfortable with donations. Coordinate with the nonprofits to track monetary and in-kind donations made by residents.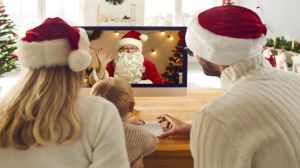 Virtual calls to Santa
Many kids love to sit with Santa for the holidays. Carry on the tradition with video calls! Whether Santa sets up in the leasing office or his own decorated home is up to you. Simply schedule household call times with Santa using your virtual concierge.
You may even consider community-wide calls where Santa, Mrs. Claus or elves lead holiday-themed sing-alongs. Remember: kids have a shorter attention spans than adults. Singing excerpts of songs (rather than entire songs) will be fun for the kids and keep actor costs low.
Make it marketable! Remind residents to tag your organization in the pictures that they take for social media. It may also be helpful to create unique hashtags for each event.
Happy holidays!