Smooth Sailing for Self Storage
By Leah Etling on Mar 26, 2021 in Matrix
As Americans continue to move about the country in the aftermath of the COVID-19 pandemic, they're often downsizing, temporarily relocating, or electing not to take all of their possessions along with them. The exodus of renters from high priced gateway cities has been beneficial for the self storage market, and Yardi Matrix vice president Jeff Adler is carefully confident that strong demand for storage units will continue for the next 18 to 24 months.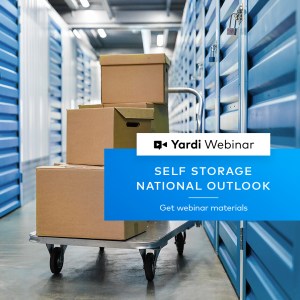 "I'm cautiously optimistic, but wouldn't say wildly optimistic, about the sector near term," Adler said during a Self Storage National Outlook webinar presented on March 24. The webinar also included an overview of the national economy, potential for inflation, employment trends and other factors. It's available to view online.
For the next few months, renters may be moving back to cities that they left a year ago to resume in-office employment or making final decisions about whether to stay in a new city they tried out while escaping an urban lifestyle in 2020. Those moves will likely impact storage positively.
Although vacancy across the country's largest office markets continues to inch upwards compared to Q1 2020, increases in office sale and rent prices show investors have not lost any confidence in the strength of both traditional and up-and-coming markets. For example, the latest national office market report released by CommercialEdge found that, despite pandemic challenges, Nashville saw a year-over-year increase of nearly 6% in office lease rates, which rested at $31.06 per square foot — coming up closely behind San Diego office space, which averaged $39.44 per square foot, following a modest increase of 0.8% compared to February 2020.
Self storage demand could be further bolstered if there is a second wave of moves out of higher-cost real estate markets, Adler shared. Such moves will be contingent on employment trends as the country recovers from the year-long pandemic. So far, migration is flowing from California to states like Colorado, Texas and Arizona, and out of New York to states like Florida and North Carolina. Utah and Idaho are also experiencing a high volume of new residents.
"As long as there is movement of people, storage tends to do quite well. Continuing moves would keep the demand for storage high," Adler said. But at some point, pandemic-influenced demand is expected to subside.
National street rates for 10×10 non-climate-controlled (NON-CC) units increased by 2.6% compared to February 2020, and rates for 10×10 climate-controlled (CC) units grew by 3.1% over last year. While street rates nationwide saw substantial growth year-over-year, rates for both unit types remained flat month-over-month.
Along with the industrial sector, self storage is a bright spot for real estate investors. Focused on short-term returns, however, they are mainly electing to purchase existing properties rather than sink time into ground-up development. Deal velocity picked up at the end of 2020 and 2021 is expected to be a record year for self storage transactions.
"Relative to industrial, which is very pricey, and other asset classes, self storage as an investment class is very attractive and that's driving a lot of institutional investor interest," Adler said. Consistent street rate performance and ease of management are both positives for investors. The only downside for some markets is large supply pipelines, which could push down prices as they come online.
Nationwide, Yardi Matrix tracks a total of 2,237 self storage properties in various stages of development: 597 under construction, 1,201 planned and 439 prospective properties. The national new-supply pipeline as a percent of existing stock increased 0.1% month-over-month in February, and the share of existing projects in planning or under construction stages accounted for 8.4% of existing inventory. Matrix also maintains operational profiles for 26,534 completed self storage facilities across the United States, bringing the total data set to 28,771.