Self Storage Slows
By Leah Etling on Mar 1, 2023 in Matrix
Fewer Americans are relocating, and that's led to a period of stabilization, including rate declines and lessened transaction activity, for the self storage industry.
Those were among the takeaways from a March 1 Yardi Matrix webinar presented by Jeff Adler, vice president of Yardi Matrix, and Paul Fiorilla, editorial director. You can view the session recording here.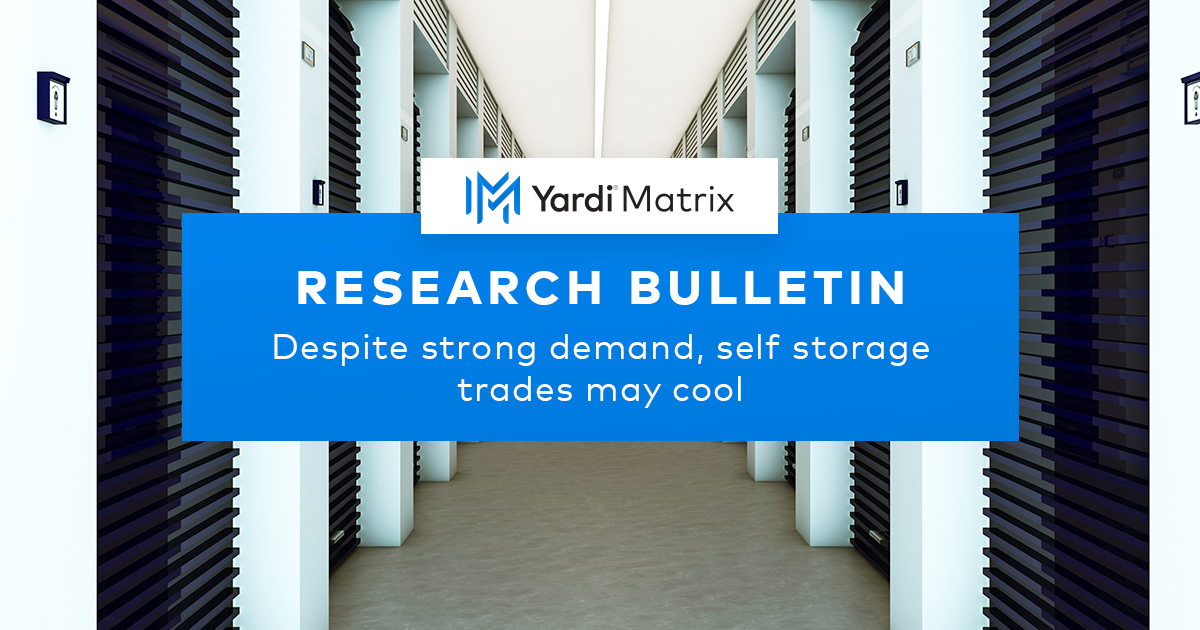 "Storage benefits from the movement of people, and the movement of people has moderated," Adler stated. Other trends that led to record level demand for the sector in 2021 and the first half of 2022 were many millions of Americans working from home (WFH) for the first time, and the country's aging population base.
"WFH demand has been durable, but we're not going to see a dramatic increase in it at this point," Adler said, especially as many companies call workers back to the office at least some of the time.
The self storage sector, typically a haven for savvy investors, experienced skittish investors last quarter. Despite recording its second-highest annual sales total in 2022, sales volume dropped sharply to close out 2022. Investment activity is expected to remain light in the near-term due to uncertainty in pricing and yields.
Self storage property sales totaled $10.0 billion in 2022, down 18.7 percent from $12.3 billion in 2021 – which was the all-time high.
"Despite the decline, sales activity was more than double any year prior to 2021. Institutional investor demand has grown in recent years, owing to the sector's high returns relative to other property segments over the last two decades, recent strong fundamentals performance, and the prospects for growth," says the latest Matrix Self Storage Transaction Bulletin.
"This is a great sector. There's really no question about the sector performance being poor. It's been really good. It may be bit off the peak of the last two years, but it's not bad at all," Adler noted.
Self storage sales rose through the third quarter of 2022, totaling $2.6 billion in 1Q 2022, $2.8 billion in 2Q 2022 and $3.0 billion in 3Q 2022 before dropping to $1.7 billion in the fourth quarter.
Some would-be sellers are content to collect dividends until prices move up again. "If the market improves, sellers will come back out," said one industry executive.
"Transaction markets are going to be dislocated," confirmed Adler. "I don't think interest rates come down until mid-year 2024. That's the environment we're in. The economy is rebalancing and returning to normal."
The webinar also reported on Matrix' expanded reporting of properties focused on the RV/boat storage segment of the market. Nearly 1,200 such facilities across the U.S. are now tracked.
"Development and transactions have declined much less in this niche than in the overall self storage market, and pricing has gone up," Adler noted. "It's one tiny segment of the market, but it's getting increased transparency. I think this niche will see continued demand and professionalization/specialization as we've reported in previous webinars."
View the webinar presentation and watch for details on future virtual Matrix events.