Self Storage Outlook
By Leah Etling on May 23, 2020 in Matrix, News
Self storage is still considered among the most stable real estate sectors during rocky economic times, but it is not immune from the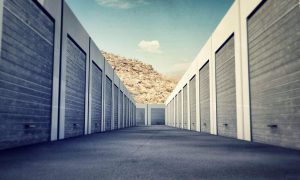 COVID-19 crisis, attendees of the May 19 SSA Webinar presented by Yardi Matrix experts learned.
"Under the best of circumstances, and short of a medical solution, recovery is going to be partial and slow," said Jeff Adler, vice president of Yardi Matrix, at the start of the presentation. Adler and Chris Nebenzahl, institutional research manager for Matrix, presented the current outlook for self storage as it navigates changing tides.
If you missed it, find the presentation materials and a recording of the session.
While the industry looked strong in March, things shifted in April. National street rates for 10×10 non climate controlled (CC) units fell 2.6 percent, and rates for 10×10 CC units fell 6 percent. That was the largest decline in more than three years.
The impact was nearly universal, as street rates for non-CC units fell in 97 percent of the major markets tracked by Yardi Matrix, and CC units saw declines in every market tracked. Only Raleigh-Durham and Portland, Ore. saw
non-CC street rates drop less than in previous months, and Phoenix stayed completely flat (see slide at left).
Nationwide, Yardi Matrix tracks a total of 2,209 self storage properties in various stages of development, comprising 593 under construction, 1,172 planned and 444 prospective properties. Matrix also maintains operational profiles for 25,914 operating self storage businesses, bringing the total data set to 28,123.
The COVID-19 crisis has yet to slow self storage development, however, as properties under construction or in the planning stages account for 9 percent of the market in April, a 20-basis-point increase over March.
That's expected to change in the coming months.
"We expect to see self storage deliveries drop by about 10 percent this year overall," said Nebenzahl. "This will likely lead to a 10 percent reduction of available space and net completions."
"The slowdown should be a welcome sight for much of the industry that has seen an overwhelming amount of new supply over the last few years," he summarized.
Adler concluded that self storage has multiple demand drivers and as people begin to move, consolidate households to save cash or downsize, demand is likely to pick back up. "Recovery is likely to be slow, it's likely to be sporadic, it's not going to be the same in each market. But we do see self storage as continuing to be a resilient market."
For a comprehensive look at individual markets, sectors and economic trends presented by the Matrix team, check out the latest Matrix National Self Storage Report.