Opposite Outlooks
By Leah Etling on Nov 12, 2020 in Matrix
It's a tale of two outlooks for the industrial and office real estate sectors, reported the experts from Yardi Matrix and CommercialEdge in a commercial real estate webinar presented on Nov. 11. As the end of 2020 nears, each market has a different trajectory.
For owners and investors in the office sector, the full impact of the pandemic and its impact on the way employees work, especially in the knowledge and technology sectors, has yet to be unveiled. Major office properties tend to operate on long leases, so while rent remittance has been generally solid this year, as leases come to term in 2021 things could change.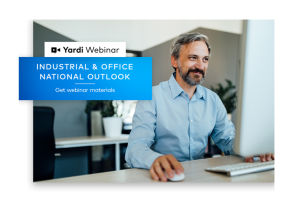 The big question, said Yardi Matrix vice president Jeff Adler, is what use of office space looks like in the future. One thing 2020 has taught us is that it likely doesn't look like the old model of spending five days a week in a cubicle.
"There is a re-evaluation of 'what is the purpose of space?' Was the purpose of that space that people got things done there? Or was it a culture purpose? If it was simply to do a task, it's become clear that task can likely be done at home. How space is used, why space exists and why you need it in the first place is going to be reimagined," Adler said.  "What kind of office footprint do you actually need to achieve the business goals that you have?"
The answers to those questions will determine the floorplans and lease terms of offices post-pandemic. Also at play: where they're located (public transit use is still dramatically decreased) and how many workers will come to the office on any given day. Right now, going back to a 5-day office work week seems highly unlikely. But, so does an all-remote work model. A hybrid model with intentional collaboration opportunities between employees, and office spaces that facilitate that safely, is likely to emerge. Office owners and managers with flexible space models is secondary and tertiary markets (i.e. drivable cities not dependent on public tranist) are most likely to benefit quickly.
Meanwhile, it's mostly sunshine and rainbows for the industrial real estate sector, which is riding high on the continued increase in demand for e-commerce. Industrial real estate nationwide is seeing increased values, heightened asking rents, higher stock market valuations and continued development of new supply.
"There are a couple cracks and concerns but for the most part, industrial is doing quite well given the recession, the pandemic, and everything else we're experiencing here in 2020," said Chris Nebenzahl, editorial director for Yardi Matrix. Those concerns are tied to the more traditional uses for industrial space – small business manufacturing and general goods storage, which are tied to the brick and mortar economy.
But in general, e-commerce's record year has been a boon for industrial that looks like it will continue into 2021 and beyond. Amazon opened 100 new warehouses in September, and there is more than 100 million sf of additional space for the company in development. All told, the e-commerce giant will have increased its fulfillment center footprint by 50 percent by the time 2020 concludes.
Yardi Matrix recently started tracking cold storage industrial as well, and as demand for grocery delivery continues, that sector is expected to be another industrial sector bright spot.
Gain all the insight from the Office and Industrial National Outlook webinar in the presentation deck and recording.