Towne Properties
By Geneva Ives on Aug 8, 2022 in Marketing
We're excited to celebrate a recent win for Towne Properties, a Yardi and REACH by RentCafe client. In June, it was announced that two of Towne's redesigned property websites received Hermes Creative Gold Awards in the Electronic Media / Social Media / Interactive Media category. Both websites were built on our RentCafe platform and supported by our REACH by RentCafe digital marketing agency.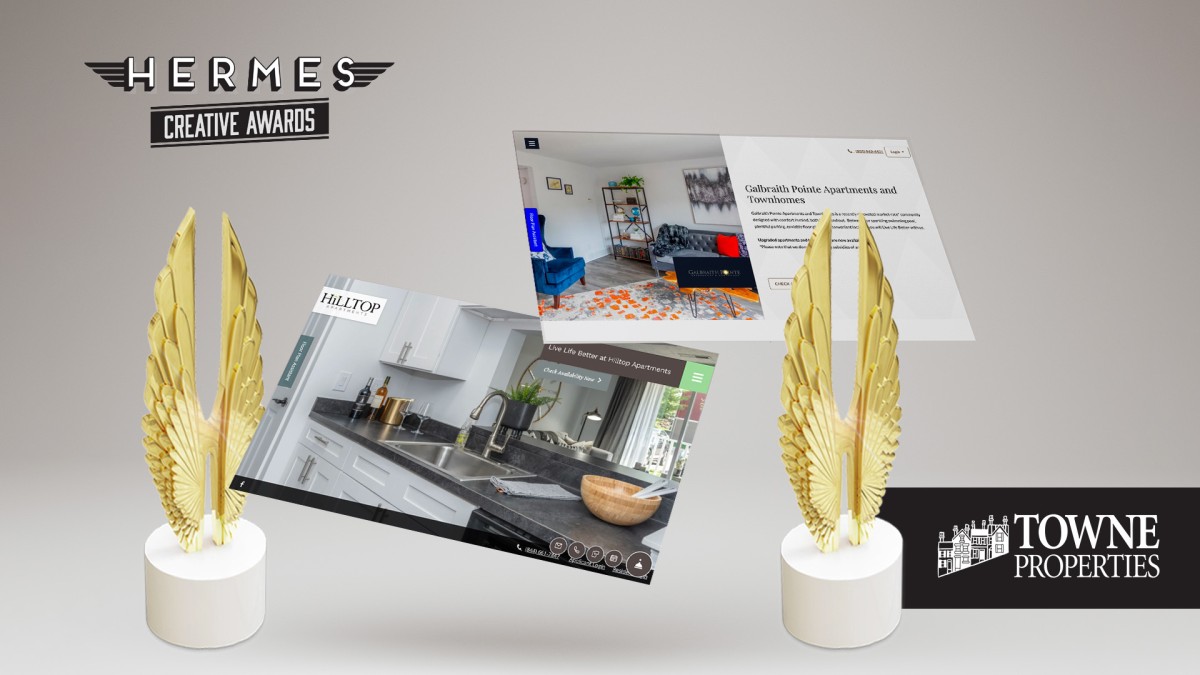 "Winning the Hermes Awards for our website redesigns honors the incredible work of our marketing team," said Karen Zapkowski, marketing specialist at Towne Properties. "Having the right website technology from the start was critical. We've been able to build on that to create sites that reflect our brands and engage potential renters."
What is the Hermes Creative Awards?
The Hermes Creative Awards is one of the oldest and largest creative competitions in the world. It's sponsored by the Association of Marketing & Communication Professionals.
Each year, competition judges evaluate the creative industry's bestpublications, branding collateral, websites and videos as well as advertising, marketing, and communication programs. Work is judged on creativity within whatever constraints apply to the brand and/or media.
The competition is open to creatives of all sizes. Winners range in size from individuals to media conglomerates and fortune 500 companies.
This year, there were more than 230,000 entries from over 125 countries.
Which of Towne's websites won Hermes awards?
Both of Towne Properties' award-winning websites won gold Hermes Awards for website redesign. The team at Towne started with RentCafe website themes, then added vibrant branding, copy and imagery to bring each property to life.
Galbraith Point: No place like home
galbraithpointeapts.com
The Galbraith Point website appeals to modern renters with vivid colors, interactive calls-to-action and integrated resident testimonials. A front desk widget in the lower right corner makes it easy to email, call or schedule a tour from every page.
Hilltop Apartments: A fresh new look
hilltopapthomes.com
This website for apartments in Cincinnati has large, gorgeous photos (there's one for every amenity), hyperlocal copy, resident testimonials and engaging features, like a floor plan assistant and self-scheduled tours.
Who can use RentCafe to build property websites?
Property management companies of all sizes can use RentCafe to build corporate and property marketing websites. RentCafe websites are built for speed, performance and accessibility, making them popular with brands and customers. There are thousands of RentCafe websites online today.
View the RentCafe websites brochure for Voyager clients.
View the RentCafe websites brochure for Breeze clients.
Need website help?
Our REACH by RentCafe digital marketing agency can help you create the website of your dreams — and other neat stuff, too, like logos, floor plans, email templates and more. Check out some of the agency's work.