Social Media in Focus
By Leah Etling on Mar 23, 2022 in Events, Marketing
REACH by RentCafe is excited to be at the Multifamily Social Media Summit in Napa this week as the social media, photo booth and platinum exhibit sponsor of the event, which kicked off Wednesday afternoon.
Celebrating its tenth anniversary, this edition of the #MultifamilySMS is the best attended ever, shared Adam Japko, founder of Esteem Media, which produces the conference. Multifamily providers from around the U.S. are on hand to gain knowledge, improve their social media marketing best practices, network and meet with industry vendors.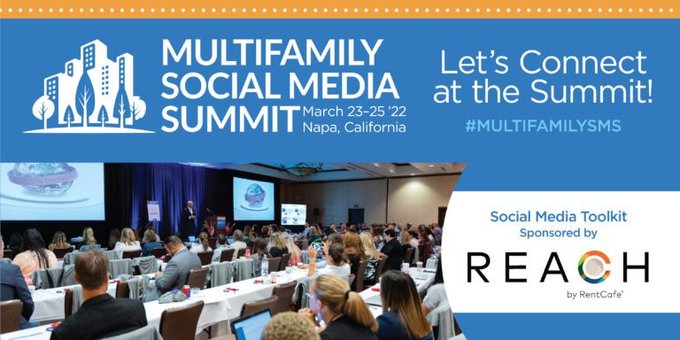 A significant focus of the first day's learning workshops was on the importance of User-Generated Content (UGC) to a successful and current social media strategy.
Speakers Erica Byrum and Delany Duke both dedicated portions of their energetic presentations on how UGC, both from residents and employees in the multifamily housing realm, can generate trust and engagement from users.
"In 2022, what makes good marketing is authenticity. The majority of consumers are looking for an authentic experience," said Duke, digital services manager for Landmark Properties, a student housing provider. "UGC is important because it allows us to market our properties through the eyes and ears of our residents."
Three key statistics to consider:
92 percent of marketers think they're creating authentic content
But just 51 percent of consumers think their favorite brands offer authenticity
Meanwhile nearly 80 percent of consumers say that UGC impacts their decision to make a purchase.
Duke suggested a variety of ways to encourage staff and residents to create social posts, particularly videos for TikTok and reels for Instagram, which have become overwhelmingly popular especially for the Millennial and Gen Z demographics. Contests and giveaways, always a mainstay to encourage content, are one. Other ideas from both presenters include working with micro-influencers and harnessing the creativity of your site teams.
Many marketers have struggled with how to create TikTok videos and reels that capture compelling housing content, and Byrum, co-author of Youtility for Real Estate, offered myriad suggestions to meet the challenge.
"There's definitely a niche audience on TikTok that loves a good apartment tour, and opportunities to tap into lifestyle drivers," she said. Content like recipes, home décor, budget and finance tips, health and fitness and city highlights are all great fodder for housing-focused TikTok accounts that would reach renters.
And when it comes to working with staff on on-site content for TikTok and Instagram, Duke offered advice that got big laughs: "The most common thing I hear from site teams is: 'I'm not going to dance!' But you don't have to dance." (Although you can, if you want to! And it will probably do well.)
Here is a quick list of trend takeaways from Wednesday's sessions:
Spend time on the social channels where your residents are most engaged
Strategically adapt your content strategy for social in accordance with today's trends
Brand consistency takes you to the next level in marketing
Video content will continue to dominate
Micro influencers may be among your residents – take advantage!
Engage your on-site employees for UGC
Fair housing laws must still be followed on digital channels. Make sure your team is trained and educated
If you're in attendance at the event, meet REACH representatives at booth 36. Pick up a special gift, learn about the many ways REACH can improve your social media marketing, and snap fun photos at the photo booth!
You can also check out our free social media toolkit at https://bit.ly/3irV2Lc for resources and tips to keep you connected all week. Follow #MultifamilySMS to keep up with the event online.