Sarah Wieman
By Geneva Ives on Apr 21, 2022 in Marketing, People
Property marketing has always been an art, but these days, there's more science involved than ever before. Sure, you need art to tell the story of your community and inspire prospective renters to take the next step. But you need science to prove that your campaigns are working or, if they're not working, help redirect your strategy. That's where marketing data and analytics come in.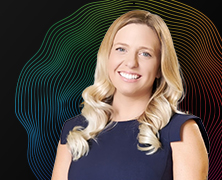 Sarah Wieman, senior manager of branding and marketing at PRG Real Estate, is no stranger to this concept. Taking advantage of the increasing accessibility to marketing data, she compiled her own case study to see which strategies and sources bring in the most renters. What she found has had a significant impact on PRG's marketing mix — and will continue to do so as new data becomes available.
Here, Sarah shares her discoveries in her own words.
Why is marketing data so important to you?
Sarah: I was told in grad school that the hardest thing about being a marketer is proving your worth. People like to joke that marketing just asks for and spends budget, but it's important to me to show that my team's strategies are working. That we're actually bringing money in.
Can you share an example of a time you used data to prove results?
Sarah: In response to the pandemic, PRG Real Estate took the initiative to reevaluate how we market our properties and where we spend our ad dollars. We branded our properties and refocused our budget.
After we did that, I decided to do a case study for our executives and also for our regional directors and managers to prove that the adaptations to our strategy are working and paying off in terms of ROI. It was an exercise to secure their trust.
What did the case study find?
Sarah: I looked at applications-by-source and cost-per-lease for five of our top sources: Google Ads, website SEO and three different ILSs.
Looking at applications-by-source in 2020, we received the most from Google Ads. A total of 2,080 applications in fact. And we also onboarded with our new SEO provider which happens to be REACH by RentCafe. Our sites began to pick up more traffic as we optimized them more effectively, and they became our second top source, bringing in a total of 1,952 applications last year.
With the ILSs, there was one that stood out with a higher number, 677 applications, but they represented the smaller chunk overall.
The, when I reviewed the data for the first half of 2021, I found that model was still holding true.
PRG Real Estate applications-by-source in 2020
Google Ads: 2,080
SEO: 1,952
ILS 1: 677
ILS 2: 511
ILS 3: 286
What did your cost-per-lease data reveal?
Sarah: I made the decision to look at leases instead of leads because that's where the actual money comes in. In 2020, average cost-per-lease across our portfolio was $265.91. Again, looking at our top five sources, we found that Google Ads had the lowest cost-per-lease, followed by website SEO and then the ILSs.
We realize that the PPC rates we've experienced are amazing. I'm happy to report that our 2021 data showed much the same thing. Google Ads cost-per-lease has gone up slightly and SEO cost-per-lease has decreased as site optimization continues to improve our reach, but PPC is still our top source for leads that convert.
PRG Real Estate cost-per-lease by source in 2020
Google Ads: $32.77
SEO: $65.96
ILS 1: $524.29
ILS 2: $1,362.37
ILS 3: $349
What was the big takeaway for you?
Sarah: When I started this case study — and I'm going to continue to do them — I wanted to create a holistic view that unites all my vendor and partner data.
For us, the biggest takeaway was that, at our portfolio, PPC yields the most approved applications, and it has the lowest price tag. One of my properties has a $15 PPC cost-per-lease.
SEO is a long-term health care provider for our portfolio. We partnered with REACH because we build our websites through RentCafe, and they know all the ins and outs. Our website leads and leases continue to grow, making it one of our most cost-effective strategies.
We learned that not every property needs to be on every ILS out there, so we've shifted our strategy accordingly. It's a synergy and a balance. One property might do really well on the big ILS. Maybe with a smaller property, you can get away with just PPC. For the most part, every PRG property is now using Google Ads and many are on just one ILS.
Is ILS marketing still important for your communities?
Sarah: Even though we focus more and PPC and SEO now, ILS marketing is still part of our mix. The ILS value goes way beyond just giving me leases. One thing I value is how much research and development they put into their websites. Being listed on the ILSs gets you attention. You're much more likely to gain awareness and be found by renters who are beginning their search. But you don't always have to be part of that top tier of sponsored listings.
What's next for you in terms of data?
Sarah: My next step is to do a cost-savings projection. To see how much money we're saving and what we can do with it, whether it's reinvesting it into other marketing opportunities or hosting some really cool company events.
I'm excited to look at how we can continue to save and prove our worth as a department. Being agile and able reinvent yourself allows you to be successful in any situation.
Sarah Wieman's lessons learned
PPC yields the most approved applications with the lowest price tag.
SEO performs well and is a long-term marketing necessity.
Properties do not need to keep every ILS in their marketing mix to remain stable.
ILS value goes beyond cost per lease. They're often critical for awareness early in the renters' search journey.
What works for one property may not work for another.
We thank Sarah for taking the time to share her strategies with us. Connect with her on LinkedIn and don't miss her session at AIM 2022, "Left Brain & Right Brain: A Beautiful Marketing Mind."
Related content: Marketing Analytics: Create, Monitor, Adjust | 5 Marketing Metrics to Track