Marketing Analytics
By Geneva Ives on Jan 27, 2021 in Marketing
How do you create the perfect property marketing strategy? One that delivers the biggest ROI for your budget? In the days of flyers, yard signs and billboards, creating a winning marketing program used to be somewhere between a guessing game and an art form. But now that most rental searches begin (and sometimes finish) online, successful property marketing is more of a science thanks to the amount of data available.
Today, property marketers can access data on prospects, leads and leases from multiple sources. Taken as a whole, these make up the marketing analytics that can make or break your strategy.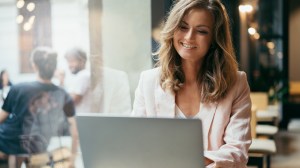 "In terms of marketing, we understand you have a few critical priorities to keep your units filled and drive good revenue. First, you have to create a marketing and lead generation strategy. Then, you have to monitor and evaluate the success of your strategy. And finally, you have to adjust your plan to make sure you are getting the very best results for the least amount of spend," said Esther Bonardi, vice president of marketing at Yardi. "But it's difficult to compile and compare the data you need. That's where a lot of good marketing strategies fall apart. And it's where RENTCafé Marketing IQ can help."
What marketing analytics are important to property marketers?
To effectively increase marketing ROI and reduce spend, these are a few of the data points you should keep a close watch on:
Total exposure: Understand not only current vacancy and availability, but also month-to-month leases and uncommitted lease expirations to gain a better view of your total vacancy risk and greater insight into how much marketing is needed.
Prospects by source: Compare the number of prospects each source brings in. When you understand where the greatest volume of leads is coming from, you'll know which sources are ideal for creating awareness, an especially important metric during a lease-up or rebrand.
Leases by source: Compare the number of leases each source delivers over any period. Which sources are outperforming others? Are there any that aren't performing at all?
Conversion rate by source: Compare the conversion rate of each source. Getting a lot of leads is good but getting a lot of targeted leads that convert is better. Where are you seeing the most success? These are the sources you should focus your spend on when there's a need to fill vacancies.
Cost by vendor: Compare the cost of each vendor to see where you are spending the most each month.
Cost per prospect: Determined by dividing the total marketing costs by the number of prospects. How much are you spending to increase brand awareness?
Cost per lease: See how much you are paying for each lease. Are you paying too much to an ILS that doesn't deliver? Where are you getting leads for less? This data point shows you where you may have opportunities to redistribute or cut your budget.
Taken individually, these metrics are easy to understand. But it can be challenging to get them all in one place for analysis quarterly — let alone monthly or weekly. And how do you know you can trust the lead data sent to you by vendors? Knowing that customers interact with your brand an average of seven times before converting, how can you be sure that the leads you're paying for truly converted because of that source?
Top property marketers use marketing analytics software to aggregate and analyze this data for them. In doing so, they save time, cut through the noise and gain transparency into the success of their efforts. And while, in the past, it could be difficult to garner enthusiasm for the marketing budget from external stakeholders, analytics tools like Marketing IQ make it simple to show them the numbers to support any proposal.
What's Marketing IQ?
Marketing IQ is a powerful marketing analytics tool for RENTCafé clients. It delivers fast, accurate, on-demand analytics — including those listed above — to give you total visibility into property performance, campaign performance, marketing spend, marketing ROI and the complete customer journey.
Access all the data you need to see displayed in one user-friendly interface. Drill down from portfolio-level data to property-level details. Instantly see individual vendor invoices and resultant leads. Review current and future availability to gauge unit exposure. You can also spot check any lease to verify attribution to the correct source.
"With Marketing IQ, you can plan your strategy, monitor your campaigns and then adjust to improve results," Bonardi shared. "It's easy to see which sources are actually delivering leads that convert and how much you're paying for each one. You can even compare website performance across your portfolio to see where you might be able to make tweaks to get more leads from organic search."
Create, monitor, adjust … a healthy dose of data makes this the perfect recipe for a winning marketing strategy.
Visit yardi.com/marketing to learn how to attract and convert more renters with a connected suite of marketing tools, including RENTCafé Marketing IQ.