Increase Tour ROI
By Geneva Ives on Jul 14, 2020 in Marketing
Sure, you're booking more tours. But are you converting them? Here are six steps you can take every time a tour is booked that will help you get the lease.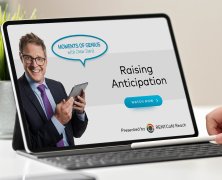 Customize your confirmation
As soon as a prospective resident makes an appointment, you should send out a confirmation that includes all the necessary information (e.g. date, time, location, contact info). Ideally, your CRM system will automate that step for you, so your agents don't have to manually respond 24/7. Each email should be customized to make the guest feel special.
How do you customize an automated email? First, add their name to the email so it says something like, "Hi Jared, we're so excited for your visit next Tuesday at 9:30 a.m." Then, take it to the next level by asking a question. You can do something like:
Upon your arrival we want to welcome you with a beverage of choice. Do you prefer x or y?
We have a welcome gift for your tour. Would you prefer x or y?
Both ideas work well for agent-led and self-guided tours, but even with virtual tours you can come up with creative ideas for gifts. You can easily email something like a Starbucks gift card or a coupon book for area businesses.
Raise anticipation
After you've confirmed the tour, raise anticipation to make sure your prospects don't cancel or lease from a competitor. You can do this in several ways. One of the easiest methods is to take a quick video of yourself with your phone. In the video, you should greet them by name, show them something compelling about the unit or property and say that you can't wait tour with them.
Get other ideas that will help you raise anticipation in this episode of Moments of Genius.
Text reminders
You know the reminder texts we all get from airlines, doctors, hairstylists etc.? Well, the technology you use to schedule tours and facilitate online bookings should be able to text appointment reminders too. Text messages have a 98% open rate, so it's almost guaranteed your prospect will see your reminder.
If you have smart texting or a chatbot enabled, the recipient will be able to send back any questions and get a quick response.
Send a preview
Your future tour guests are more likely than ever to open your emails in the days before their appointment, so why not send them a preview or "sneak peek" email to get them excited? Include these three important elements:
One thing you like about the unit: Has it been renovated recently? Does it have a nice view?
One thing you like about the property: Is it conveniently located or peacefully secluded?
One thing you like about the neighborhood: What local parks, shops or restaurants stand out?
Include images if you can, but the most important thing is to be authentic. Ditch the marketing jargon. For example, for an in-person tour you could write something like, "On your way out, stop by Tino's and grab one of the best sandwiches — they are a huge hit in the neighborhood! For more information about the surrounding area, check out our neighborhood map <link to property marketing site with map>."
Tour to win
If you've managed the relationship well up to this point, the prospects are excited when they show up for the tour. Now is your time to shine! Whether the tour is virtual, self-guided or agent-led, the most important thing to remember is that you shouldn't spend all your time talking about how great your property is. Your focus should be on the value it will provide to them as a renter.
How will this apartment fit their lifestyle? What's the commute like to different parts of town? What are the neighbors like? What type of community events do they enjoy? Try to figure out if a guest room, walk-in closet or gourmet kitchen is actually important to your prospects, instead of just hitting scripted talking points.
Even for self-guided tours, you can leave a one-page slick in the unit that talks about the top 10 reasons they will love renting this apartment. Include a floor plan and application, then make sure they know these docs are theirs to take with them when they leave.
Finally, if you offered a gift, beverage or other item in your confirmation email, make sure you follow through!
Personalize follow-ups
You job doesn't end when the tour does. It's important to follow each tour with a personalized thank you, whether your guests completed an application immediately after or not. Use the communication method that best fits your prospect. If they texted you throughout the process, now is not the time to call. Send a text to ask if they have any questions. Mention something that came up during the tour if you can, so they know the communication is unique to them. Share links to any resources they might find helpful as they make their decision. And always thank them for their time and consideration.
Start increasing tour ROI now
Use these tips to put together an action plan for your leasing office that will help you decrease tour cancellations and convert more tours into leases. Need help with the tech tools? You can do everything we talked about above and more with RENTCafé. Check out these resources for information on using technology to build anticipation before, during and after the tour: