11 Big Ideas
By Geneva Ives on May 8, 2022 in Events, Marketing
More than 800 people joined the Apartment Innovation and Marketing Conference in Huntington Beach last week for four days of learning, networking and fun. The REACH by RentCafe digital marketing agency was in attendance as marketing leaders and multifamily experts from across the country took the stage to share both strategies and results.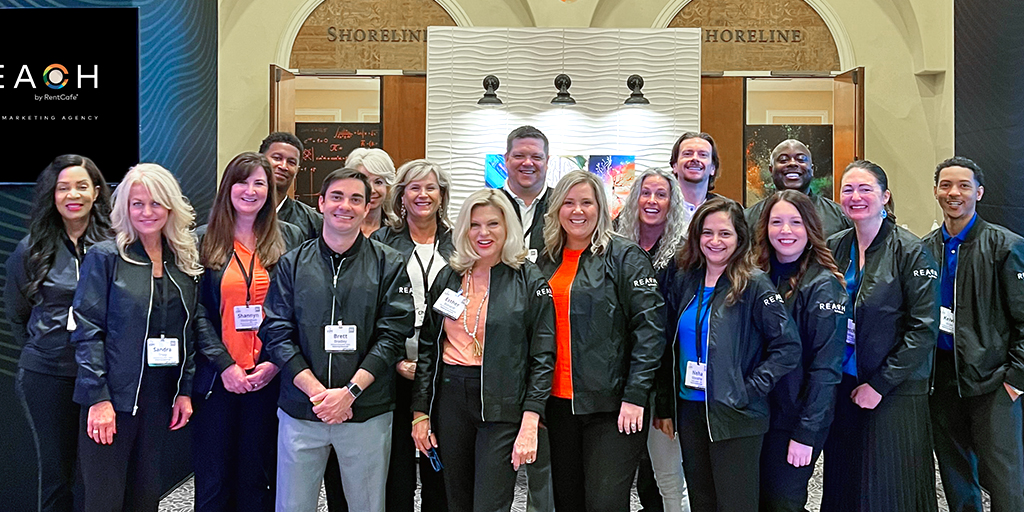 Here are some quotable moments from this incredible event to help you get inspired for your next campaign. Connect with the speakers by clicking on their names.
Making marketing matter
"What does it mean to be in marketing? Your job is to make a brand cool and don't get it sued." Nick Tran, former global head of marketing at TikTok
"Be authentic. Trends aren't one-size-fits-all. Do what works for your brand and each community." Sarah Wieman, PRG Real Estate
"In marketing, we don't want to be order-takers. We want to be decision-makers. Stop treating yourself as support. Bring data to the table so you can come in with value." Kelley Shannon, Bozzuto
"For marketing to work in a silo, you might as well just go stand against the wall and bang your head. Getting more traffic isn't the highest and best use of your marketing dollars. Educate your team about the value marketing brings to the table and how it impacts ROI." Gigi Giannoni, Gables Residential
"SEO should be a foundational element for you. Why would you put money in places with diminishing returns when you could make a winning long-term play?" Melissa Cartagena, Greystar
Give renters what they want
"We're focused on our brand and the lifestyle, but we know from looking at our analytics, lifestyle images aren't necessarily what sells. Lifestyle helps bring your story to life, but we need core property content and images to sell units." Tim Hermeling, Cortland
"Only 2% of residents say property management overcommunicates. And 45% of residents think their rent will stay the same or go down. Are you setting realistic expectations?" J. Turner Batdorf, J. Turner Research
"A full 90% of renters are either interested in or won't rent without soundproof walls. This feature ranks only slightly below air conditioning and in-unit laundry, and yet is advertised by very few properties." Sarah Yaussi Pienik, NMHC
Social media content is queen
"We have not traditionally trusted our leasing teams with social media. But in reality, they're the closest to your customers. Give them the power to create content. They can become the ultimate creators for you." Kristi Fickert, Realync
"You can reach so many more potential renters on Pinterest. Did you know 72% of users use Pinterest to decide what to buy offline?" Brooke Atsalis, The Management Group
"I didn't have any expectations when we tried TikTok, I just didn't want to offend anyone. We're in lease-up; we need velocity. We've gotten 74 leads. A very interested lead slid into our DMs. I've been pleasantly surprised." Kira Brown, Wood Partners
#REACHpeace
The REACH team was also able to donate an additional $1,250 to Direct Relief International to provide aid in Ukraine because of engagement at the event. Thank you to all who participated. We look forward to seeing everyone next year at AIM 2023!