Yardi Proptech Insights
By Yardi Blog Staff on Jun 8, 2020 in Global, News
In the latest edition of Yardi Proptech Insights, Yardi regional director Richard Gerritsen speaks with Bart de Sitter and Jay Lelie of Delin Property about the company's efforts to design innovative warehouse spaces that are efficient and functional as well as attractive for workers.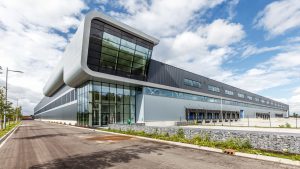 With the growing need to attract and retain ecommerce employees for order fulfillment, warehouse spaces with natural light and employee-friendly amenities like lunch and break spaces are more important than ever. Interconnected spaces for warehouse activities and offices for managers and admin staff are also a priority.
"We are hearing from our clients that retention of personnel is becoming more and more difficult, and we want to help our clients make a difference for their workforce, and help their employees be proud when they arrive at work," said de Sitter, the company's development director. That means moving away from boring, box-like industrial development norms.
"In our designs we put the labor force first, creating a warehouse that provides a better workplace," said Lelie, asset and leasing manager. Design schemes show massive windows, creative office integrations, and terrace-like areas for worker breaks. The company invests and develops industrial space in the Netherlands, UK, and Spain.
Use of forward-thinking PropTech is also important to Delin Property, which continues to adapt and improve its technology management platform using Yardi products. Improving communication with tenants, on site safety and automating business processes have been two PropTech priorities for the company, shared de Sitter and Lelie.
Watch the video below for more PropTech insights from this valued Yardi client. Learn more at delinproperty.com