Transforming the Tenant Experience
By Yardi Blog Staff on Feb 18, 2022 in Global
Over the last two years, the value equation in commercial real estate has continued to evolve. Four walls and functioning systems were once enough for tenants to sign long leases. Now experience is everything.
Bricks-and-mortar is only as valuable as the experience it can deliver. This was one of the clear takeaways from the latest Yardi Proptech Insights webinar, hosted by Yardi APAC Regional Director Bernie Devine. In the sixth and final edition for 2021, Devine sat down with Chris Brooke for a chat.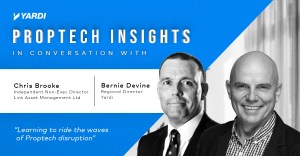 Brooke has spent more than 30 years looking at real estate from multiple angles. He led CBRE's consulting across the Asia Pacific and in 2019 was the global President of RICS, the Royal Institution of Chartered Surveyors. An independent director of LINK REIT, one of the largest real estate investment trusts in Asia, Brooke is currently advising several property technology start-ups, including Proxy, which creates mobile-based identity technologies, and smart parking platform Kerb.
Commercial real estate was already heading down the innovation route on the technical side of buildings before Covid-19 upended the world, Brooke said. The pandemic has since forced a fundamental re-examination of commercial real estate. If work can be undertaken anywhere, what is the role of the office?
Enter the experience era, where the office is the centre of collaboration and connection, teamwork and training, superior engagement and spontaneous exchange.
But stepping up to support the experience era brings with it complexity and a range of big questions asked – and answered – during this proptech deep dive.
How will proptech evolve in 2022?
Proptech remains "highly fragmented," but we can expect "consolidation, integration, aggregation" in the next 12 to 24 months, Brooke said. Why? Because landlords are no longer interested in fragmented single solutions. They know they need to build an ecosystem of engagement and experience for a diverse and dynamic list of stakeholders.
As the commercial real estate sector grapples with how to consolidate all those individual great ideas into an integrated solution, the landlord and tenant must work together and collaborate effectively, Brooke noted.
Who will take charge of the tenant experience?
Where once commercial real estate was founded on a relationship between landlord and tenant, now landlords must also consider the needs of their tenants' employees, customers and visitors to the building. "The spectrum of stakeholders has really expanded," Brooke observed.
Tenant customers are also exposed to multiple overlapping brands, Brooke added. The brand of the building itself is the obvious one. But there's also the portfolio brand of large landlords, the agency brand of the property manager and the employment brand of large occupiers.
"Whose experience do you want tenants to have?" Devine asked. "And what's the value of making that decision?"
Landlords are now tasked with integrating several brands into one tenant engagement app while respecting individuality and navigating data security, ownership and privacy. At the same time, such engagement platforms need to be integrated with employee experience initiatives being developed by major occupiers.
How will we value tenant engagement?
Bernie has watched the real estate industry's level of investment in technology, as a percentage of revenue, "ever so slowly creep up." But the market is still telling landlords to "do better." Is it simply a matter of "show me the money?"
It is difficult to apply traditional cost benefit analyses to weigh up the value of investment in tenant experience technology, Devine noted.
"How do we measure the return on investment? Is it tenant satisfaction, stickiness or longer leases? Is it product differentiation? Did you get that outcome because of the app or was it another market influence?"
How will tenant expectations evolve?
Covid has driven a "flight to quality," Brooke said, both in terms of physical buildings and the service offering and amenities provided by landlords.
In the quest for quality, tenant experience apps are becoming "table stakes" for large owners. The challenge? To transform the traditionally transactional relationship between landlord and tenant into a hospitality-driven collaborative partnership.
As landlords deliver more services, base rent will potentially become a smaller proportion of revenue, Devine added. The best landlords will continue to innovate by providing optimum flexibility, identifying new service offerings and refining processes to ensure delivery is smooth and seamless.
How do asset owners pick tech winners?
As they swim in a sea of proptech start-ups, the leading landlords are asking themselves: What are the technology value-adds and must-haves? And what do we add on top to differentiate our brand?
Yardi is investing in what Devine called "deep integration" to ensure a seamless experience for users and to "determine the maximum value for our customers."
Yardi's acquisition of visitor management software company (UK-based Forge) in 2021 is a good illustration. Forge, which supports contactless smart access and arrival, integrates with other building technology such as meeting room access, elevators and parking services to provide that unified experience that tenant customers now crave.
Expectations of experience were already evolving before Covid-19. But the pandemic has poured petrol on existing trends and transformed the way tenant customers expect to engage with their buildings. Big changes are ahead, but property leaders are ready to roll up their sleeves and embrace integration as their inspiration in 2022.
Save your seat for our upcoming session with Smart Cities Council.