The Warren Center
By Leah Etling on Aug 15, 2022 in Giving
Yardi is committed to supporting the community in every city where our offices are housed. Each year, the company distributes philanthropic aid to organizations selected by its employees.
In 2021, Yardi offices supported more than 350 nonprofits worldwide. For the remainder of the year, we will be bringing you the stories of those organizations and insight into how they aid their communities.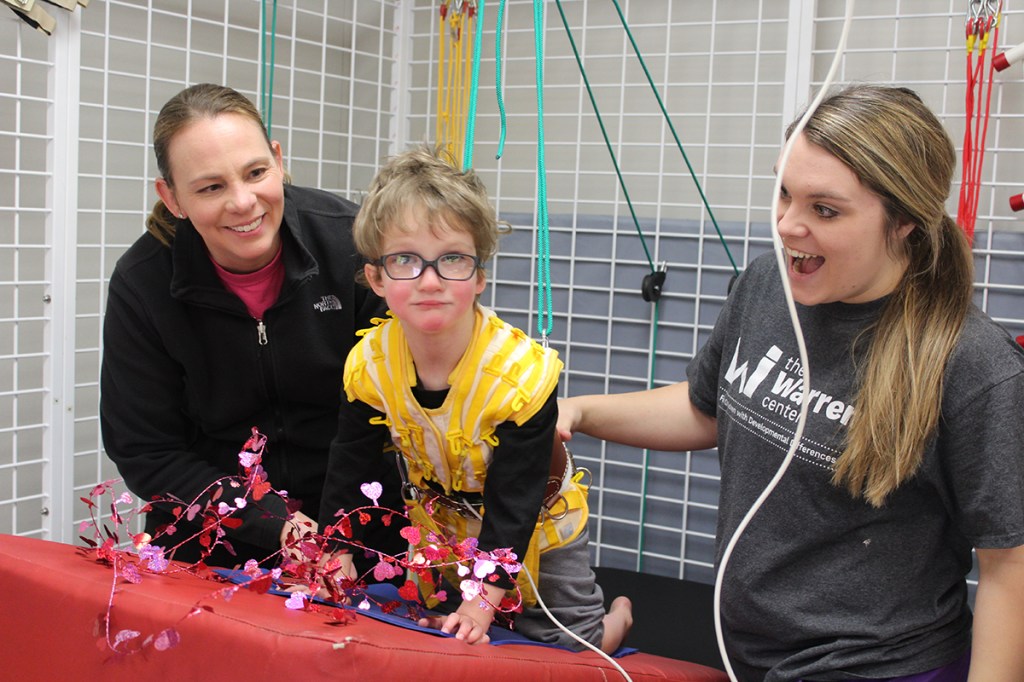 Today, get to know The Warren Center of Richardson, Texas, which helps children with developmental differences and their families.
The Center helps children to reach their developmental goals through individualized therapy-based care and equips parents through monthly education workshops and support groups so they can be a confident advocate for their child.
In September 2021, The Warren Center served over 1000 children and families every week. As of June 2022, the Center is serving close to 1400 children every week.
"The number of families reaching out for help for their families is increasing. Our number one priority is to be make sure we have the space, staff and additional resources available to serve each one," said Amy Spawn, CEO.
"100 percent of the funds received (from Yardi) go right into our therapy programs for children. We do not turn families away for the inability to pay for therapy services. Because of Yardi's generous support we can help more children receive the services they need quickly."
Areas of support
The Warren Center offers three primary service areas:
Early Childhood Intervention: This program provides evaluations and personalized therapy sessions to children from birth to three years of age and includes occupational and physical therapy, speech and language therapy, feeding and nutrition therapy, developmental therapy, and transition assistance to additional services.
The Warren Center Clinic Therapy Services: Enrolls children age three to five, and continues to serve them as they get older. Licensed speech-language pathologists, an occupational therapist and physical therapist focus on communication, social, sensory, and motor/ coordination skills utilizing a sensory gym, outdoor therapy yard, motor room, small therapy rooms and group classroom. Comprehensive developmental evaluations and autism assessments are also provided through this program.
Family Education and Support: Families are guided through their caregiver journey and receive support for their ongoing needs through monthly education workshops, respite care and family fun days, counseling – plus guidance to other needed services and resources.
Juan's Warren Center story
The beginning of Juan's life proved that he was a fighter from the start. Born with spina bifida, Juan underwent brain surgery shortly after birth. He also demonstrated involuntary eye movement as well as hearing loss in one ear. After his release from the hospital, Juan's mother Destiney walked away from her career to become his full-time caregiver.
As Juan continued to demonstrate global delays, his family decided to enroll Juan into the Early Childhood Intervention (ECI) Program at The Warren Center. Starting at 15 months, Juan began to receive occupational therapy, physical therapy, specialized skills training, speech therapy, and services for audio and visual impairment.
In addition to Juan showing delays in his motor skills, he also showed significant delays in both verbalizing and understanding language. Although he readily attempted to communicate verbally with the clinician and tried to respond to cues, he produced unintelligible vocalizations with no imitation of recognizable speech sounds. The clinician also performed a swallow study that revealed that thin liquids would go down the wrong tube and into his lungs. At the start of therapy, Juan could only consume thick Pediasure using a baby bottle with a "Level 1, slow" nipple. He could not eat food.
Committed to help Juan consume whole foods, his therapists introduced baby food on a small spoon. Unfortunately, Juan would become frustrated, cry, recoil, and turn his head away. The therapists then shifted gears and decided to empower Juan by letting him hold the spoon. This allowed Juan to become familiar with food smells and its texture.
Within a few months, Juan began eating pureed bananas and discovered that he liked them. Accompanying his snack with liquids happened more slowly, and his therapists experimented with various cups, and straws to determine which items suited Juan best. His therapists also showed Juan's mother how to implement new strategies and slowly introduce flavors for improved progress.
Juan can now drink water from a bottle. He likes to eat pureed apples, bananas, pumpkins, sweet potatoes, carrots, and prunes. He also enjoys mixing things up with French fries and munching on beef jerky. Instead of turning his head in aversion to food, Juan is open to trying new textures and tastes. His mother and father have slowly reduced the amount of Pediasure in his diet, and Juan loves to verbally request a "taco" or "French fry!"
In addition to his favorite food words, Juan now has over 100 words in his active vocabulary and can imitate most of the words his parents say. He uses phrases and is a delightfully social and sweet child who loves being the center of attention. Happy to engage and talk non-stop during sessions, he can now eat apples and bananas to his heart's content during therapy. His parents are thrilled and grateful that Juan can now experience the joys of childhood thanks to The Warren Center.
Volunteer opportunities
A number of opportunities available for those wanting to volunteer at The Warren Center. You can serve at one of the organization's family center events or join a committee that focuses on your area of expertise. The full range of opportunities are available at thewarrencenter.org/volunteer.
Learn more about the Warren Center at thewarrencenter.org and find future non-profit profiles at https://www.yardi.com/blog/category/giving.