The Redwood Toronto
By Erica Rascón on Oct 27, 2020 in Giving
October is National Domestic Violence Awareness month. We unite to support vulnerable members of the community and end domestic abuse through education, advocacy and service. At The Redwood, an emergency shelter for women and children fleeing abuse, every month is domestic violence awareness month. Even through the pandemic, the non-profit works tirelessly to ensure that women and children have the resources that they need to escape their abusers.
The Redwood offers essential services for women who are courageously leaving abusive relationships. At the site, they receive emergency shelter, meals, crisis intervention, counseling, and educational services for children. They can also access employment assistance, legal advocacy and accompaniment to appointments like court dates where a woman may have to face her abuser.
Abi Ajibolade is the Executive Director at The Redwood. She began with the organization 16 years ago after immigrating to Canada from Nigeria. Her compassion for women experiencing violence prompted her to join The Redwood, but it was the organization's approach to its mission that made her stay.
"The Redwood thinks beyond band-aid solutions and looks to make systemic changes in the community to end gender inequities that perpetuate violence against women," she says. "The strategy hasn't left me disappointed for a single day, since I joined. We live and breathe that vision, that mandate, and that's what has kept me here."
Steps towards independence bring the greatest risks
Women's first steps toward freedom are far more perilous than the public and legislators often believe.
"People think that once they leave an abusive household, everything is fine," explains Ajibolade as she shakes her head. "That's not true. Even the legal system thinks it's true. It's not. Leaving the home is a small step. In a way, it exposes her to additional risks."
"We've lost women to femicide after they leave the relationship," says Ajibolade.
Per the National Coalition Against Domestic Violence, a person's decision to leave an abuser is often met by increased hostility. The violence is directed towards the victim as well as the victim's loved ones, such as children and family members. In the U.S., about 20% of homicide victims were not the domestic violence victims themselves, but family members, friends, neighbors and other loved ones.
Learn more about services at The Redwood.
Open during the pandemic: courage + compassion
Women's shelters have faced unique challenges during quarantine due to COVID-19.  For example, the communal living arrangements at The Redwood, with a shared living room, dining room and homework room, posed risks.
The Redwood staff came together to make a difficult decision. The Redwood remained open, running at full capacity through this period. The staff has been courageous and taken measures to stay safe and healthy at this time.
Inside The Redwood, several common areas and service areas were set up with plexiglass shields. Staff members wear masks and respect social distancing protocols. The latter has been especially tough.
Ajibolade says, "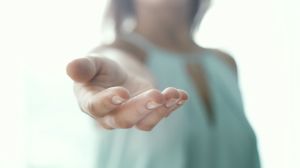 We're mindful of the importance of human connection. I'm the Redwood teddy bear. It's hard to see a woman who really needs to talk, who wants to be near someone, and you're standing six feet apart. It's especially tough when someone is crying. I really wanted to hug the woman, which is what I'd normally do." Ajibolade sighs, "For now, I can be a listening ear and let her talk. I can be here for her. It's a challenging time."
She adds, "We're all doing the best that we can. The frontline staff here is really courageous."
For women who are living in the community, for example isolated at home with the person who is doing them harm,  The Redwood launched iDetermine.ca, an app that allows women to take a healthy relationship quiz to privately assess the level of danger she may be in, to make an escape plan and to privately reach a Redwood counselor as a lifeline: "Women can communicate via text and live chat with a Redwood counsellor, 24/7. There is a surging demand for it," explains Ajibolade. "It gives women some discretion when reaching out for support."
Community + support
The Redwood never sleeps. The non-governmental organization offers around the clock care for women and children. Community support is vital to saving lives.  Prior to the health emergency, The Redwood would offer violence prevention workshops to dozens of organizations in and around Toronto.  Now the organization offers webinars to continue to help educate the public on the realities of domestic violence and provide resources to prevent it.
Yardi is honored to sponsor The Redwood. "Yardi's generous donation is already hard at work! Yardi's grant has helped us to reduce the impact of the double pandemic of gendered-based violence and COVID-19 on women who come to The Redwood for assistance."
Join Yardi and donate to The Redwood
The Redwood distributed grant funds to multiple services areas in its 37-bed emergency shelter, including 24/7 counseling, meals and hiring an additional kitchen staff member
"We are so very grateful for Yardi's generosity. It brought me to tears," says Ajibolade.
A brighter future free from gender imbalance
"I am so proud of this organization. I've been here for many years, it is personal to me," says Ajibolade. "We are educators, and we are advocates. Together, we can end violence against women. I want to be able to close our doors one day – because our services are no longer needed, maybe take up farming," she smiles. "Until then, we work together to end gender-based violence as a community."
Explore the Giving page for more ways that Yardi gives back to the communities in which we work and live.