Sustaining Hope
By Erica Rascón on Dec 16, 2020 in Giving
Dreams connect us with endless possibilities. They encourage us to step out on faith and believe that we can receive good from the world. For children with life-threatening conditions, dreams sustain hope and the will to live life to its fullest.
Andrea Siracusa is the director of community relations with Dreams Come True in Jacksonville. For 11 years, she has witnessed the transformative impact of dreams fulfilled. The prospect of helping her community is what attracted her to the organization years ago.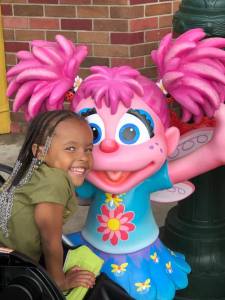 "I have always had a passion to give back to the community I grew up in," she says. "I was driven by the knowledge that all my hard work and dedication was being applied toward providing services and support to those less fortunate in Northeast Florida."
After graduating with a degree in communications and public relations, she soon joined the organization because she felt connected to its vision. "I immediately feel in love with the mission to bring hope and joy to children and families stricken by life-threatening illnesses. To have the opportunity to share the stories of our dream children and find ways to connect our community to the mission, was a passion I developed immediately after stepping through the doors."
The power of a dream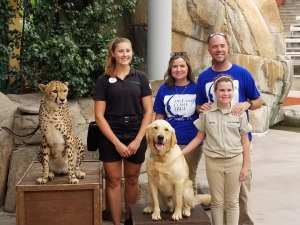 Dreams are more than just a trip, shopping adventure or bedroom makeover. They are often motivation for the children to keep hope alive when times seem unbearable.
"For many of our dream children, the reality of a life-threatening illness can be very daunting. I have heard many stories of children who have given up on their treatments, but when the discussion of a dream trip was started a new light emerged. They now are focused on getting better and finishing the treatments that are before them," explains Siracusa.
Hope can make all of the difference. Dreams Come True serves many children who are battling life-threatening illnesses and not all are considered terminally ill. The disease could limit a person's life expectancy but with treatment and maintenance, they may also live lengthy and fulfilling lives. That's why it's incredibly important for children to maintain hope and determination.
Additionally, dreams provide kids and their families the opportunity to step away from the realities associated with a life-threatening illness. Long hospital stays, treatments and appointments are offset by positive memories that will last a lifetime and give them a sense of normalcy.
"Parents are able to see their children smile once again and the child is able to play and feel free," says Siracusa.
Fulfilling dreams during tough times
COVID-19 has significantly impacted Dreams Come True in two ways. First, more than 70 children have seen their dreams placed on hold due to the safety and travel restrictions. Fortunately, the majority of those dreams have been rescheduled for the spring.
Secondly, the organization has had to cancel more than 20 community fundraising events. Dreams Come True was able to host its two signature events, the DCT Golf Tournament and DCT5K, but both were done virtually. The lack of funding may determine the dreams the non-profit can fulfil in
2021.
It's a challenging reality. The small staff of seven is accustomed to fulfilling about 160 dreams each year with 4,100 fulfilled since 1984. This year has seen dreams deferred.  As a hyper-local organization, Dreams Come True relies on frequent community support to serve families of the First Coast. There isn't a national fund to cushion the impact of the pandemic.
"At this moment, the one event we are confident will take place, and we are already preparing for, is our Dreams Come True 5K and One Mile Fun Run for September 25, 2021. We are hoping to host the event in person, but we will also be providing a virtual option."
The non-profit relies on community support. Yardi is a proud sponsor of Dreams Come True Jacksonville. The technology leader sponsored the fulfillment of four dreams including two Disney Dreams, one Disney Dream Cruise, and a Sweet 16 Dream.
"As with all general donations that we receive, 100% of all funds are directed toward the dreams of children battling life-threatening illnesses," says Siracusa. "Today, the average cash cost of a dream nearly $4,000, so every contribution counts during tough times."
Learn how you can support Dreams Come True Jacksonville.