Stronger Together
By Erica Rascón on Sep 29, 2021 in Giving, Global
In Germany, an estimated 51% of men and 43% of women will develop cancer during their lifetime, reports medical research firm Bristol Myers Squibb. While the number of survivors is steadily increasing, so is the number of incidences amongst people of working age.
One non-profit organization helps families cope with cancer diagnoses to develop greater preparedness, resiliency and hope.
Clarity, communication and community at Flüsterpost e.V.
Flüsterpost e.V. (Whisper Mail in English) supports children whose parents have been diagnosed with cancer. This is done primarily through counseling for parents, which coaches adults on how to handle the diagnosis with their young family members.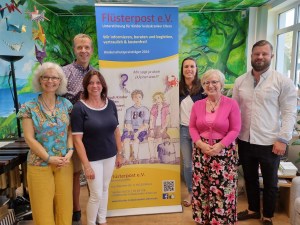 The counseling sessions encourage open and honest discussion within the family. Through discussion, families can address or resolve issues and mitigate additional psychological and physical stress for the youth and young adults in the family. Additionally, children get the chance to learn how to deal with crisis situations in a capable and self-efficient way, thus strengthen their resources and resilience.
Family counseling is supplemented with additional research and resources. All services are confidential and free of charge. Clients can access services in person, by phone, email or via social media.
Youth also have access to play therapy. At the center, kids can play instruments, explore the arts, participate in equine therapy, and so much more. Each activity is crafted to provide emotional support through self-expression and energetic release.
Flüsterpost e.V. + Yardi
Yardi is a proud sponsor of Flüsterpost e.V. Team members from the Germany office visited the site to learn more about the organization.
Yardi team members Bärbel Welches, Dirk Kolbe, Kathrin Stahl and Denis Litke explored rooms that were crafted for music and group conversation. They then toured rooms that catered to quiet time and introspection. Each room had a unique ambiance to help children understand the purpose of the space.
Attendees also enjoyed discussion with staff, including founder Anita Zimmermann and staff member Karin Burchardt. They learned stories of families who received support through the program. They were also able to read a proprietary book published by Flüsterpost which helps kids understand cancer diagnoses and their impact.
"It was great to see the rooms where staff speak to families, and where kids play and spend time," says Denis Litke, marketing associate at Yardi. "We really enjoyed getting involved beyond the grant."
Get involved with Flüsterpost e.V.
Flüsterpost e.V. relies entirely on donations for support. Join Yardi Germany in helping families cope with their cancer diagnosis. Click here to donate to Flüsterpost e.V.
Yardi is Energized for Good! Learn more about Yardi's corporate social responsibility and philanthropy on our Giving Page.