Stepping Up in Greater Chicago
By Leah Etling on Mar 30, 2021 in Giving
Sometimes the worst of times bring out the best in our efforts to help each other. That's been the case at Connections for the Homeless, a non-profit organization in Evanston, Ill. that has delivered tremendous results over the last perilous year.
"The three ribbons on our logo represent the three parts of our community that we partner with to do this work: our staff, our participants and our community supporters," said Betty Bogg, Executive Director of Connections since 2015. "We see ourselves as the scaffolding by which community intentions for improvement can be constructed. We a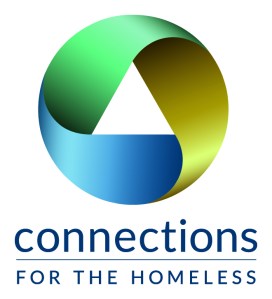 re there to help the community solve this problem."
Prior to the pandemic, Connections operated a tightly packed space in an Evanston church basement that sheltered a maximum of 18 male-identifying clients, on any given night. The agency also offered drop-in services to help engage community members experiencing homelessness ­­via – sack lunches, showers, a clothing closet, and nursing care – in an effort  to gradually build trust and rapport with participants who might ultimately be ready for housing assistance.
"Even before lockdowns started, we were already discussing how we might respond (to the pandemic)," recalled Bogg, who is the sister of Yardi's Nancy Bogg. "We knew we needed many more shelter beds. When Illinois' shelter in place order went into effect, we didn't know how we would do it or pay for it, but we decided we were going to put people with no place to go, into hotels for shelter."
Funding and finding, a path forward
What happened next is a classic "if you build it, they will come" tale. In January 2020, Connections expected that its operating budget would be around $5.5 million, and it would again serve around 1,400 people with the help of 1,200 volunteers as they did in 2019. As for so many industries and non-profits worldwide, the pandemic changed everything.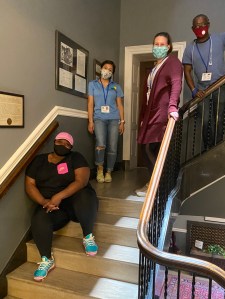 "We began our plan to place people in hotels, still not knowing how we were going to pay for it," recalled Bogg. "We had about 100 people that we'd gotten off the street and into hotel rooms. And then we experienced a second wave of people in need of support who had been completely off our radar. People began coming to us who had previously been very precariously housed."
They included relatives of nursing home residents, who had been able to bed down on a relative's couch or cot while helping to provide care. Another group was families who had been packed into shared small apartments with other families and found themselves pushed out due to COVID concerns. And there were those unusual but unforgettable stories like one cancer patient, who spent her entire life between chemo treatments on Chicago-area transit systems.
"Her nurse told us that they could not believe the difference they saw in her health, as soon as she began getting three meals a day and sleeping in a bed every night," recalled Bogg. She saw the experiences of those Connections helped firsthand, as for five months, she chose to live during the week at the same hotel where Connections provided 200 rooms of comprehensive emergency housing. They also provided three meals a day, which were purchased from local restaurants, pushing money back out into the local economy at a time when it was badly needed.
Funding for hotel operations was made possible by support from private companies and individuals, including Yardi, who stepped up to help. Additional staffing was also a must, and Connections added 30 people to its team. Ultimately, the non-profit's 2020 operating budget ended up being $12 million, more than doubling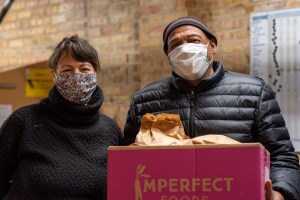 expectations.
"Yardi had supported us with small donations in the past, but we were really surprised when suddenly that support increased substaintially right when we didn't know how we were going to fund all that we were trying to do. The community response was incredibly inspiring," Bogg said. Private funding allowed Connections to test out the hotel-based model and see that it worked, while preparing to transition the effort to a largely public-funded effort long term.
"The private philanthropy that lifted us up in the spring of last year now has allowed us to transition this to a more sustainable funding model. It's been incredibly impactful," Bogg said.
Ultimately, in 2020 Connections served 3,396 individuals, housing 364 in hotels, with the help of almost 80 staff members and more than 1,700 volunteers.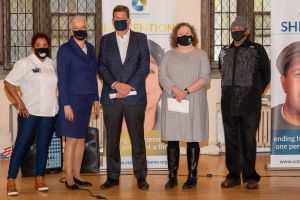 That wasn't all. They also kept over 1,000 residents in their homes with eviction prevention efforts and invested around $5 million to the local economy through payments to restaurant partners, hotels, landlords, and employees.
"We've always been a force for social good, but now we're truly a force for economic good," noted Bogg.
Supporting landlords and preventing evictions
A key component of Connections' mission is preventing homelessness before it even starts.
"We have always done work in this area, but last year there became even more need and necessity," Bogg said. "Eviction is a cause of, not a result of poverty. It costs us as a society so much more money if someone becomes homeless – up to $60,000 a year in public services. If we can get them caught up on their rent and continue to maintain stable housing, that is the best option."
Job losses, large medical bills and other unexpected setbacks are the typical causes leading to unpaid rent and subsequent evictions. The pandemic put thousands of low-income families in such economic jeopardy. Working with renters and landlords, Connections was able to help by paying $1.6 million in rent, mortgage, and utility bills, keeping 1,00 people in their homes. They tripled the size of their eviction prevention team and hired a community organizer.
In 2021, they are launching a new program called the Landlord Risk Mitigation Pilot which will work with landlords of all sizes – from one unit to thousands of apartments. "Landlords are people too, and they have mortgages to pay. A big landlord can afford some missed rents, but a small landlord cannot," Bogg said.
The program provides financial mitigation and dialogue to landlords if a person falls behind on rent.
"We'll help catch them up, as well as enter into mutual agreement with the renter on terms for future housing," Bogg explained. There is also education provided on the renter side on financial planning, how to be a good neighbor and how to work communicate constructively with a landlord.
The non-profit funding is separate from the millions of dollars in federal household and landlord relief that is now being distributed by governments like the City of Chicago and Cook County. Connections is also involved in that effort as a technical facilitator, and helps potential recipients apply for assistance online.
"This area is just an ever-growing need. Often those who need this assistance don't have online access or a computer at home. They're able to walk into our office and apply for help here," Bogg said.
What comes next
While pandemic concerns are still predominant for Bogg and her staff (the day we interviewed her, she was excited about her team receiving their second round of COVID-19 vaccinations the next day), they are now looking forward to how increased awareness in and support from the community will fuel future growth.
"There is more attention now focused on people in horrible circumstances than there was before the pandemic. There is attention from the community, municipalities and society that we never had before," she said.
In addition to ramping up their efforts on eviction prevention, a near-term goal is for Connections to purchase a hotel or apartment building that would enable them to provide short-term housing without paying hotel rates. The hotel stay model isn't economically feasible long term, but the need for immediate shelter will be ever-present. They are searching for a location with about 50 rooms, which is a sustainable size for support and staffing.
Connections is also ramping up its advocacy efforts in the North Shore communities it serves with a program called Joining Forces for Affordable Housing. The intent is to focus on affordable housing as a solution to homelessness.
"The pandemic has really allowed us to hone in on what we need the mission of that program to be," Bogg said. "Working with our landlord partners, we are collecting data so that these communities can work forwards more affordable housing. Ultimately, the lack of affordability is impacting our ability to get people into sustainable housing situations."
With so many initiatives moving forward, it seems like Connections' work may never be finished. But Bogg is very proud of what they've achieved over the last year.
"The fact that we jumped in with both feet is a testament to our team and their commitment," she said. "People want to help fund your work when you DO THINGS. Having impact is the key."
Learn more about Connections for the Homeless and see how you can contribute to their ongoing efforts to prevent homelessness.