Reno Rodeo Foundation
By Katrina McDowell on Aug 3, 2023 in Giving
In 2022, Yardi offices supported more than 350 nonprofits worldwide.
Grab your lasso and boots, and let's travel to Reno, Nevada and introduce you to Reno Rodeo Foundation (RRF), founded in 1986. The foundation builds and leverages community partnerships to fund scholarships and support children with extraordinary needs in 14 Nevada counties by strategically allocating financial resources for the greatest impact possible.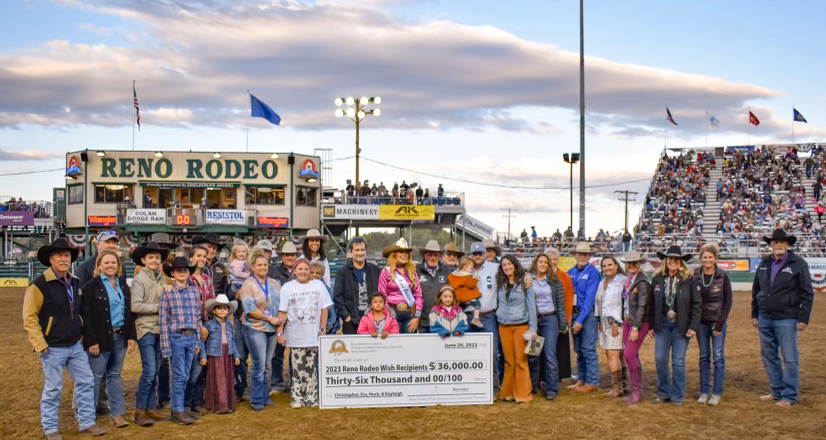 The Foundation annually assists students with educational scholarships at colleges and universities in Nevada or out-of-state if the degree is not offered in Nevada, as well as trade schools licensed by the State Commission on Postsecondary Education. The organization selects children nominated by a local hospital to receive a special "Rodeo Wish" with funding to help enhance the quality of their life.
"One of the most recognizable programs we have is our annual Denim Drive six-week campaign that runs from November through December to clothe neglected, abused and abandoned children rescued from unsafe homes," says Samantha Tabarez, outreach and development director for Reno Rodeo Foundation.
The Denim Drive raises money to clothe children in need. With the funds, social workers also purchase exactly what is needed for the child(ren) beyond just clothing, such as hygiene items.
In addition, the foundation provides funding to purchase new books and new teddy bears for children that have to attend family court proceedings.
"The Reno Rodeo Foundation is committed to leveraging community partnerships, putting financial resources to the highest impact use possible and establishing an identity as a major supporter for local children's services in Northern Nevada," said Tabarez.
Funding from Yardi directly supports this program, giving social workers more access to swift support that meets the immediate needs of foster children.
Denim Drive and other RRF programs are 100 percent financially funded, and as the population grows, so do the needs of foster children who have experienced the unimaginable.
"We are humbled and incredibly grateful for the support received from Yardi. Because of our community partners' generosity, we can support youth with extraordinary needs throughout Northern Nevada and are thankful daily for these partnerships," Tabarez shares.
Scholarships for success
One of the community pillars of the Reno Rodeo Foundation is supporting Northern Nevada high school graduates through educational scholarships. The scholarship program began in 1986 with the award of four students receiving $1,500 each. Today, over two million dollars has been allocated to hundreds of young adults throughout 14 Northern Nevada counties.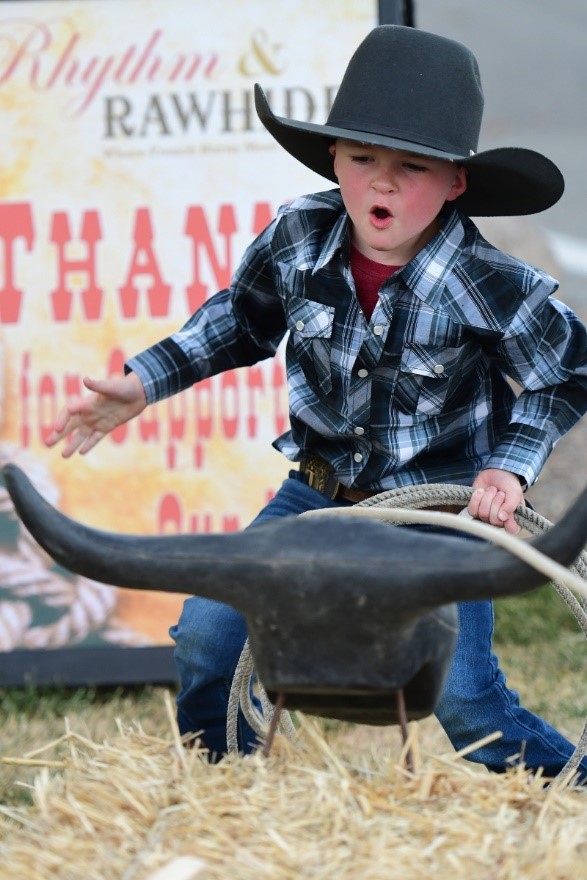 This year $36,000 was distributed to four well-deserved children. Pictured here are the children and their families, hospital representatives, Reno Rodeo Association and Foundation representatives holding the check at the Reno Rodeo ceremony.
RRF supported Dr. Logan Wood, who is now a staff veterinarian at the North Dakota Zoo, specializing in large and exotic animals. Dr. Wood recently traveled to Ecuador to collect blood samples and research Tapirs.
"Thanks to the help provided by the Reno Rodeo Foundation, I was able to chase my wildest passions and lifelong dream of becoming a veterinarian," said Dr. Wood, DVM, CWR. "It feels good to know that the Reno Rodeo Foundation and my hometown community are still actively supporting local students and encouraging them to pursue their wildest dreams too."
Volunteer Opportunities
The Reno Rodeo Foundation prides itself on working with community partners who help them with various events through volunteering. Yardi employees can help volunteer at the Reno Aces games by helping at working at the concession stands. In addition, there are other volunteer opportunities with the Denim Drive during the distribution of materials to various companies throughout the 14 Northern Nevada counties and helping during the Denim Drive Foster Family Distribution event in January.
Reno Rodeo Foundation always needs volunteers to help with set-up during several events, including its largest fundraiser, called Rhythm & Rawhide, held in September. More details are available by contacting the foundation directly.
A way that the community can support the Reno Rodeo Foundation scholarship program is to purchase the Rodeo State Charitable License Plate for their truck, car or trailer. The Rodeo State Charitable License Plate provides a significant funding source for the Reno Rodeo Foundation and the Nevada State High School Rodeo Association (NSHSRA), as the charitable proceeds from this license plate are shared equally between these two organizations.
"The Rodeo State license plate is one of the most popular charitable plates in Nevada, and we hope you'll choose to display it on all of your vehicles and trailers proudly," said Tabarez.
Find future non-profit profiles at https://www.yardi.com/blog/category/giving.