Ray of Hope
By Erica Rascón on Jan 27, 2020 in Giving
Rick M. was starting to lose his eyesight. His optometrist missed the glaring signs of glaucoma. As a result, Rick was completely blind in one eye within two months of his appointment. The visual acuity in his other eye measures 20/60. The quick onset of the condition radically transformed his life. Rick, a university-educated and independent young man, was forced to quit his job at a major greeting card company. For several years, he was transferred between assisted care centers. He found The Lighthouse Supported Living 16 years ago. He has called it home ever since.
No two clients at The Lighthouse are the same. Each person has a unique set of circumstances that have led to homelessness or poverty. To meet their singular needs, The Lighthouse offers a range of services to help clients obtain self-sufficiency whenever possible.
About The Lighthouse
The Lighthouse is more than an emergency shelter. It has evolved into a supported living and affordable housing provider that offers wellness services to people experiencing homelessness and poverty. Programming at The Lighthouse helps pursue achieve self-sufficiency, mental and physical health.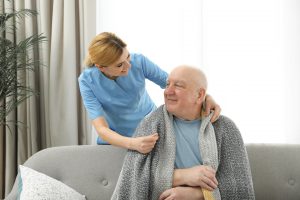 Anna Pacik, fundraising and communications manager, was drawn to The Lighthouse because of its mission. "The mission of The Lighthouse is to take care of people holistically and help them to find a healthier, more positive path in life. I love this mission," she explains. "The Lighthouse cares for people who are the hardest to keep safely housed."
These marginalized people may have mental health issues, intellectual and development disabilities, or "unseen disabilities" like FASD and head injuries. Clients also include trauma survivors who try to manage their pain with drugs and alcohol.
Though each case is different, all are welcomed and treated with dignity. The non-profit organization aims to end chronic homelessness through effective programs, partnerships and advocacy. Clients are guided towards higher levels of personal growth through an intricately planned continuum of care. The program includes emergency shelter, assisted living, affordable housing, health and social services.
Creating the foundations for stability
Though The Lighthouse is more than a shelter, housing is an essential component of client recovery and wellbeing. For some, the journey begins in The Lighthouse Stabilization Unit, which offers a safe place for intoxicated people to recover. They may then transition to dorms that accommodate about 100 men and women. Long-term residents who can live independently can find housing at the Affordable Living Tower, which offers 58 suites. For residents who require higher levels of care, the Dubé Supported Living Tower provides 68 suites. All residents receive three meals per day and access to support services.
"We provide all the support they need to be able to live as independently as they are able," says Pacik. "We have case managers who meet with our residents to assess their needs and to help them get on a better path."
Some services are as simple as helping residents apply for an ID.  Lost IDs are a huge barrier in the transition from homelessness and unemployment to greater stability. There is also staff available to transport residents to and from appointments and interviews. Additional services also include therapy, addictions counseling, and career path assistance.
Yardi + The Lighthouse
Yardi is a proud sponsor of The Lighthouse. "Yardi's donation helped fund our safety and security program," explains Pacik. "It consists of 24/7 security staff as well as a secure entrance system with a metal detector. Not only does this program keep The Lighthouse and our residents safe, it also keeps the streets of downtown Saskatoon safer. We've removed a number of weapons from the streets."
The security program costs $180,000 per year. Through it, the nonprofit has been able to eliminate or reduce drug and alcohol consumption, drug trafficking, loitering, littering, fire code violations, and other destructive behaviors in the neighborhood.
"Having a consistent and visible safety presence around the exterior of the building greatly reduced calls for service to Saskatoon Police Services for nuisance level issues and reduce other calls
that are non-criminal and could be handled by the two-person team if safe to do so," reports Pacik.
"But more importantly, improved security allows staff to serve more clients in a safer environment. There is less staff burnout as everyone can focus on fewer, more specialized tasks."
Getting involved
A team of over 200 active volunteers help The Lighthouse function smoothly. Volunteers serve meals, clean, sort donations, help with office work, provide or support special programs, cut hair, and more. There is always much to do at The Lighthouse, and volunteers are always welcomed.
Get involved with The Lighthouse Saskatoon.
Pacik concludes, "The only reason I am not in their place is because I was lucky enough to be born into a family that provides me support and a safety-net. I see the inequities. It could have been me–it could be any of us– in need of a safe place to stay and a nutritious meal. I want to make a difference for each person who shows up in need at our doorstep. It's so important that we each do our part."