More than Fashion
By Erica Rascón on Apr 6, 2021 in Giving
Do you have an article of clothing that helps you feel good? Maybe it's a pair of power pumps that sound just right on a marble floor. Maybe it's the hoodie from your dad's alma mater that feels like a warm hug when you wear. Clothing has transformative power. For better or for worse, clothing can influence our confidence and our success.
Dress for Success Boston taps into the power of fashion. The nonprofit organization uses clothing as a stepping stone to improved self-confidence, success and financial independence for women.
Meet Kim Todd, a woman empowering women
Kim Todd is the executive director of Dress for Success Boston. She has served with the organization for 15 years because of its simple yet transformative mission: strive for a world where all women are financially independent, are treated with dignity and respect and are directly impacting their lives and those of their families.
"We aspire to a world that fully harnesses the power of women and recognizes their role in economic sustainability," quotes Todd. "The mission is so easy to relate to,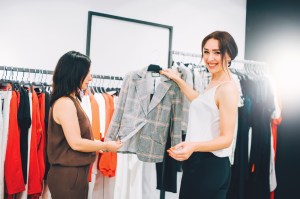 and although it seems to be a simple idea, the results of this work are life-changing. I feel very strongly that women should support each other. Everyone needs help at some time in their lives."
She continues, "We are there for women at a time when they need support to take that next step. It breaks my heart that many women do not have any support system, and they are navigating tremendously difficult situations alone.  No woman should be alone, especially if she is struggling to make ends meet to support her family. Dress for Success Boston provides a network of support for women so that they are not alone."
Fashion can help break the poverty cycle?
Todd believes that fashion, employment and self-sufficiency have a snowball effect in a woman's life:
First, women come to Dress for Success because they are ready to interview for a job or internship, but they have nothing to wear. They enter the Dress for Success shop that is arranged like a high-end boutique.
Personal shoppers offer one-on-one attention. Together, they find the perfect, professional outfit including everything that a woman needs from head to toe. The outfit promotes confidence, which helps women put their best foot forward.
"During their time with us, women are supported without judgement and treated with the utmost respect. It is our goal to help women realize that they are not alone. We are here to support them!"
Once women successfully gain employment, they are welcomed back to Dress for Success to receive a week's worth of clothing. The wardrobe assists the transition to their new workplace. Women also become a member of the Professional Women's Group, which hosts free monthly workshops geared toward job retention.
"So, it begins with the clothing, then a woman becomes employed, then she remains employed and is able to gain economic self-sufficiency and break the cycle of poverty," says Todd.
A hand up, no matter the circumstances
It's a common misconception that the women who come to Dress for Success are looking for a handout.
"This could not be further from the truth!" says Todd. "Women who come to us are from all different backgrounds and walks of life. Many have advanced degrees yet have come upon difficult times. They just need to get back on track. These are strong, brave, determined women who have put aside their pride to ask for help–which is not an easy thing to do, especially if you are a strong woman."
In March 2019, Dress for Success Boston temporarily closed its boutique. Since the building is owned by the City of Boston, the nonprofit is unlikely to have access until June 2021.
It was devastating to all staff, volunteers and the clients.  Many women who had successfully gained employment were laid off or furloughed. Women found themselves at the starting line again. Dress for Success staff had to quickly recalibrate.
The team assessed the needs of clients to better understand what services to offer. Workshops that were geared towards career advancement were replaced with sessions about resume writing, interviewing for jobs and navigating the unemployment system.
Like other nonprofits, Dress for Success embraced virtual meetings. "We are doing completely virtual suitings with Zoom and Amazon to provide clothing to women who need it for their job searches. We are truly dedicated to supporting women, no matter the circumstances."
Ways to Support Dress for Success Boston
Since switching to a completely virtual platform, the organization is in great need of financial support. Yardi recently made a contribution to Dress for Success Boston. With the funds, the nonprofit extended support to women who are working towards financial independence.
Join Yardi in supporting Dress for Success Boston. Donate online via FlipCause. Resources will help to provide clothing, support and employment services for women.
"Since 2001, we have served over 15,000 women. This would not be possible without the generous support we receive from the local community! Thank you for believing in the work we do at Dress for Success Boston!"