Cycling Without Age
By Erica Rascón on Jun 10, 2020 in Giving
No one would have been surprised if it had all gone downhill. As shelter-in-place and social distancing measures hit California, a nonprofit focused on social interaction and time outdoors for seniors was unlikely to emerge unscathed. But where there is a will, there is a way. John Seigel-Boettner found a way.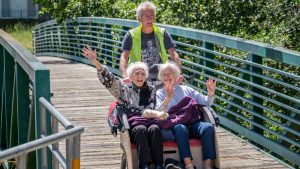 Leaning in to change
Cycling Without Age is a Denmark-based organization that uses cycling as a cure for feelings of loneliness, alienation and depression amongst the elderly. Bikers, known as pilots, take seniors on two-hour rides through local neighborhoods. It's an opportunity for the passengers to enjoy the outdoors, socialize and make new friends even when they're nonverbal.
As the new year began, the Santa Barbara chapter of Cycling Without Age experienced a surge in support and resources. Founder Seigel-Boettner built a relationship with eight senior centers that he and his pilots visited twice a week. He had just received two new tri-shaws–custom rickshaws with bucket seats and an electric motor —and trained 25 new pilots. With these resources, Cycling Without Age was prepared to make an even greater impact among Santa Barbara's 17,000 senior citizens.
"But the day that the bikes showed up is the day that we got locked down," recalls Seigel-Boettner. Protocols set in place by Governor Newsom aimed to protect vulnerable populations from exposure to COVID-19. The unfortunate side effect was the increased loneliness, alienation and depression amongst seniors.
"We were scratching our heads. We can't pilot because we can't get in the doors. Families can't even get in the doors," says Seigel-Boettner.
Cycling Without Age came to a grinding halt. Seigel-Boettner and his team paused to take in the news, and them immediately sought new ways to serve the elderly.
Getting creative, providing hope
Seigel-Boettner began to brainstorm with leadership at Heritage House Assisted Living, one of the first centers to participate in Cycling Without Age. They strived to find a way to get seniors into the fresh air and socializing without increasing their risk of exposure.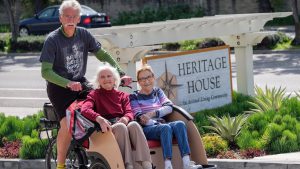 "There was a lot to think about. Senior care centers are a wildfire zone, so many strict rules. Married couples who lived in different units—like memory care or assisted living—couldn't visit one another's rooms. People from the outside couldn't go in," explains Seigel-Boettner.
He continues, "I said, well, what if I trained some of your caregivers to be pilots and take your community out for rides? And the idea took off from there."
Seigel-Boettner trained four Heritage House caregivers to operate the tri-shaws. After a few test runs, the re-imagined Cycling Without Age program took off. Caregivers are now piloting residents five times per week instead of just two. They have also organized efforts to help family members see their loved ones.
"We follow all the rules and we can still make a way for elders to see their families. We can ride by their homes. People are outside with signs and they wave and talk. At least they get to see each other," smiles Seigel-Boettner.
Community response has also been a source of encouragement for seniors. During rides, people regularly wave and smile as the tri-shaws pass by. "It's pretty great to see, you know. Their smiles are another kind of contagious," says Seigel-Boettner.
What could have shut down Cycling Without Age has served to make the organization more innovative and resilient. The modified program became so successful that Seigel-Boettner will soon replicate it at other centers. The approach adds a pool of pilots to the program beyond the current volunteer base.
"Things have changed for the better," he affirms.
More than a bike ride
Any pilot will tell you that each bike excursion is a multifaceted experience for pilot and passenger. Seniors are given an opportunity to explore the neighborhood, meet new people, and rediscover the thrill of speed, breezes and laughter. For pilots, rides are an opportunity to slow down and reevaluate their perspectives on life.
"We meet some great people," Seigel-Boettner says. "A lot of people here have been through Armageddon, storming the beach in Omaha, walking the streets of Scotland with a gas mask on. They've been through heavy stuff. To be able to hang out with them, see their smiles, their attitude–it's helped me age. I have a different outloo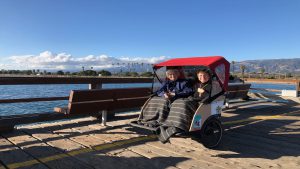 k."
Seigel-Boettner recalls a ride with a retired general and his wife, a retired PanAm flight attendant. "They had been married for longer than I've been alive, more than 60-plus years. She doesn't speak and he barely speaks. But before we took off on the ride, the general put his arm around her and put his hand over her forehead to shade her eyes from the sunlight."
"To see that tenderness…these rides are a heart workout physically, spiritually and emotionally. To be around these elders who have been through at lot of stuff has humbled me, given me hope. Hearing them giggle in the face of death just makes me see through the stormy weather. It's going to be okay."
Yardi + Cycling Without Age
Once social distancing measures have lifted, Seigel-Boettner is excited to expand Cycling Without Age services. Yardi has been a financial supporter of the organization and will soon be the first team of corporate pilots.
Through the corporate pilot program, volunteers form an ongoing relationship with senior centers. It's an opportunity for more pilots to get involved while getting to know the elders and expanding the sense of community.
"I hope we can create a model that benefits Yardi and the community in a sustainable way," says Seigel-Boettner. "We're figuring out how to keep it going, how to build relationships and create a model that can be replicated at other companies."
For now, Seigel-Boettner and the caregivers are raising awareness one ride at a time. "In California, we're good at creating locked-down cloisters of old people but we don't get them on Main Street," he observes. "I want to put elders on Main Street, have everyone together instead of isolated. Seniors need inclusion and young people need perspective."