Giving Back in Toronto
By Leah Etling on Feb 9, 2020 in Giving
Employees from Yardi Canada's Toronto office recently gave their time to spent a weekend day creating winter survival kits for regional non-profits.
The Project Winter Survival kit assembly and donation day is organized by Engage and Change, a charity created to foster good citizenship and encourage healthy communities through giving back.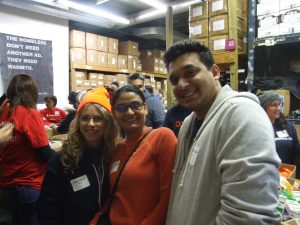 This year, over 3,000 winter survival kits were distributed to over 240 front-line social service agencies and shelters in the greater Toronto area, including the Salvation Army, Street Health, Margaret's, Covenant House, Out of the Cold and many more.
"As it was my first event in Canada to help the people in need for basic and hygiene supplies, it was definitely a memorable and pleasant experience for me," said Bharti Shisode, senior technical analyst in the Toronto office. "We turned the task into a fun competition between two teams to get the most kits completed."
"This event is a reminder to be grateful for everything we have in our lives," said Susan Diano, CSD team lead in the Toronto office.  "For
the second year in a row there was a snowstorm on the day of the event, and I don't think that is a coincidence.  This event reminds us that even if we are in a rough season of our life, that it could be much worse and at least we have a roof over our head and food on our table."
"This was an amazing and great experience to be a part of Project Winter Survival. For me, the most rewarding part was the sense of satisfaction in making a valuable and positive contribution to the community that we live in," said Karthik Attavar, associate technical account manager in the Toronto office. "The very fact that we had a snowstorm on the day of the event shows how harsh a cold weather can be if you are on the streets and how difficult it is to survive out there without the basic necessities of life.
The kits included items like hygiene supplies, warm dry socks, hats, scarves, gloves, sleeping bags, hand warmers, bottled water, towels and snacks.
There are over 9,200 people in Toronto who are homeless on any given night, affording to fredvictor.org
Yardi is Energized for good. Read more about our employee volunteerism and corporate social responsibility efforts on our Giving page.