Food Share Ventura County
By Leah Etling on Jun 3, 2022 in Giving
Yardi is committed to supporting the community in every city where our offices are housed. Each year, the company distributes philanthropic aid to organizations selected by its employees.
In 2021, Yardi offices supported more than 350 nonprofits worldwide. For the remainder of the year, we will be bringing you the stories of those organizations and insight into how they aid their communities.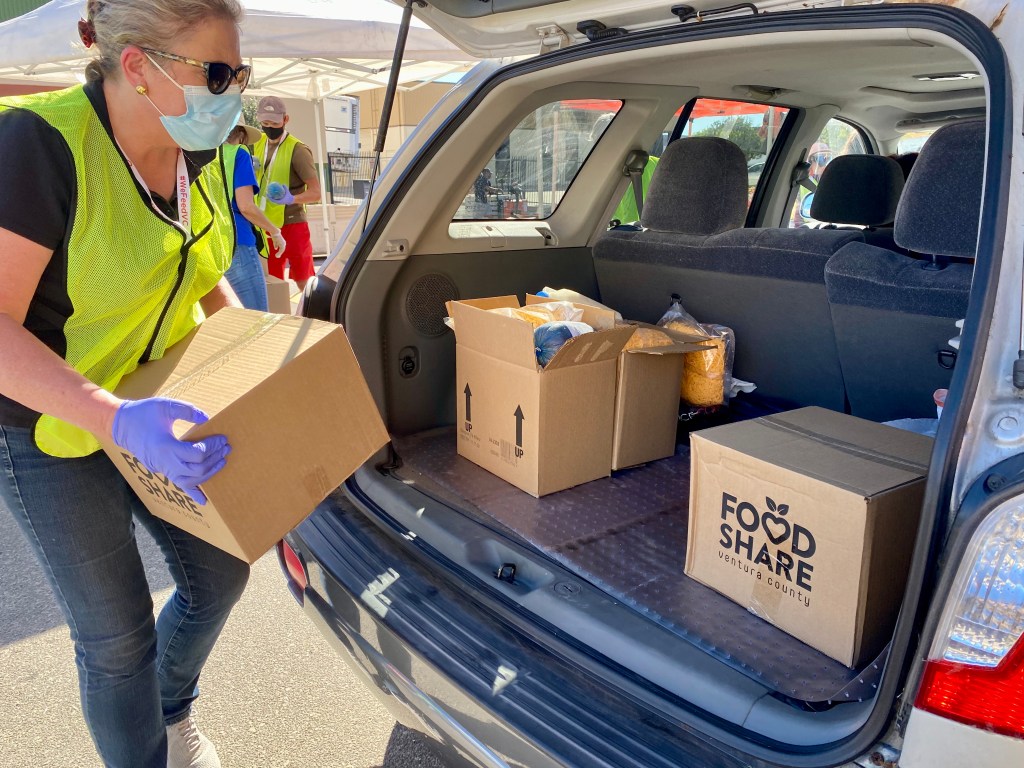 Today, we introduce you to Food Share, the largest hunger-relief organization in Ventura County, serving approximately 190,000 food-insecure people each year. In 2021, Food Share distributed nearly 19 million pounds of food, the equivalent of just under 16 million meals.
"A county-wide network of 190 pantry partners collects nutritious fresh and shelf-stable food items, at no charge, from Food Share's warehouse to distribute to their local communities. Food Share also supplies multiple weekly drive-thru emergency food box distributions and runs several programs serving vulnerable communities including farmworkers, low-income seniors, and the unhoused," said Monica White, president and CEO of Food Share.
"We are immensely grateful for Yardi's generosity and commitment to ensuring that no one in our community goes hungry. Corporate donations on the scale of Yardi's are one of the main reasons we have been able to meet the dramatically increased need for food that we've seen in the past couple of years," White said.
A lost job leaves a family in need
Food Share contributed the story of client Hakim and her family, who worked at a senior center preparing and serving meals but lost her job when the center closed and switched to delivery-only.
For an already low-income family, the lost paycheck made putting enough nutritious food on the table even more of a struggle.
"It gets really hard to feed everybody," says Hakim, a mother of five with three children still living at home. Hakim was relieved when a friend told her about a weekly drive-thru food distribution in Moorpark where she could pick up a free box of shelf-stable pantry items and fresh produce.
"I love to cook, and I don't want to waste any food. I enjoy cooking spaghetti, and sometimes we've been getting bread, and things like potatoes, celery, cabbage, and zucchini and I've been using that to make soup," explains Hakim. She also remembers to pick up an additional box for a friend in need who doesn't drive. "I hope it continues. It has been very good to have the extra food. Thank you."
Continuing the fight against hunger
In 2022, Food Share will continue to lead the fight against hunger in Ventura County. "With inflation biting hard, we are seeing a new surge in people attending our drive-thru distributions and visiting our pantry partners. Hunger is an ever-present reality for too many," White said.
The current priorities for Food Share are:
Increasing the number and scale of the programs serving vulnerable populations including farmworkers and the unhoused
Investing in technology to manage the increased need for food and investing in staffing
Expanding operational infrastructure to meet the long term needs of the community
Growing the supporter base. "Without the generosity and commitment of the people of Ventura County, we cannot lead the fight against hunger," White said.
Volunteer opportunities and how to learn more
It takes around 150 volunteers a day to keep the Food Share operations running efficiently.
Anyone interested in volunteering can go their website at foodshare.com/volunteer or download the Food Share app at the App Store and Google Play (Search Food Share Ventura County) to view the latest opportunities and sign up.
"Every dollar, every volunteer hour, and every can of food donated to us makes a real difference in the lives of our friends and neighbors struggling with hunger," says White.
Learn more about Food Share at https://foodshare.com/, and find future non-profit profiles at https://www.yardi.com/blog/category/giving.