Building Futures
By Erica Rascón on Aug 2, 2018 in Giving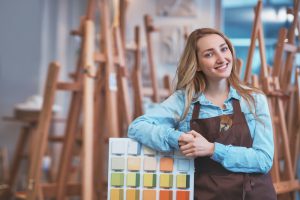 Women's Economic Ventures (WEV) offers microenterprise development services to female entrepreneurs in California's Central Coast. Trainees receive self-employment training through a proprietary curriculum and loans that enrich the diversity of businesses and opportunities in the area.
WEV has helped more than 6,500 clients jump start 4,000 businesses. More than $4 million in loans have supported the dreams of borrowers who do not qualify for conventional products. These combined forces have created about 8,000 local jobs.
In addition to WEV's work in the Santa Barbara area, the organization has extended some of its services to women in Texas, Hungary, Nepal, Amman, and Jordan.
While great strides have been made since the inception of WEV in 1991, there is still a lot of work to be done to reach economic parity. WEV's Business Recovery Specialist Nicki Pharr explains, "Women currently own about 38 percent of all businesses, but they generate only 25 percent of the annual revenues as their male counterparts. 71 percent of woman-owned businesses generate less than $25,000 in annual receipts and only 1.8 percent reach a million dollars in annual sales."
Research suggests that confidence and access to capital are two of the main reasons why women fall behind. Pharr says, "Women start businesses with roughly half the capital as men. A growing body of research indicates that confidence is as important as competence as a determinant of success and women exhibit much less confidence than men. We need to close the confidence gap so women don't opt out of competitive but lucrative opportunities to start scalable businesses in male-dominated fields, and we need to continue to help women acquire the business acumen and skills they need to grow bigger businesses."
WEV in Action
Pharr has known that she wanted to connect with WEV ever since she migrated to the Santa Barbara area from the United Kingdom about 14 years ago. The perfect opportunity arose when the organization sought to help local businesses recover from the 2017 Thomas Fire and subsequent debris flow.
The Thomas Fire wiped out nearly 282,000 acres of land, destroying 1,063 structures. The resulting $2.176 billion in damages devastated the area. With the aid of corporate sponsors such as Yardi, WEV quickly mobilized to help businesses get back on their feet.
Jessica B., owner of Tinker Belle Diaper Services, was one of many entrepreneurs affected by the fire. She graduated from SET – WEV's core entrepreneurial training program and THRIVE program, both of which supported her cloth diaper laundry and delivery service.
As the fires caused havoc in the area, Jessica's business began to stall. Families evacuated due to poor air quality. Customers left dirty diapers at their houses. Road closures prevented Jessica's staff from being able to serve their remaining customers, retrieve their products or even access their laundry facilities. These conditions increased washing costs and many diapers were ruined. Additional staff time and driving (gas expense and mileage) were necessary as well.
Thanks to her WEV education, Jessica's healthy business standing and tidy record keeping helped her qualify for a $10,000 business recovery loan through WEV in a matter of days. Her business savvy and preparedness also led to an SBA Economic Injury Loan totaling $6,100, to be repaid over the course of 15 years. Tinker Belle Diaper Services is on its way to a full recovery.
"Recovery efforts have dominated our work for the last seven months," says Pharr. "To date, we have worked with over 100 business owners and made $181,000 in business recovery loans. We are waiving program fees for businesses affected by the disasters to join or remain in our Thrive program, which provides long-term consulting and mentoring."
Yardi is Energized for Good! Join us in the support of women entrepreneurs by making a donation today.