Smarter Senior Living
By Erica Rascón on Jan 9, 2019 in Uncategorized
It's never too late to make a resolution for the New Year, especially if it improves efficiencies at your senior housing properties. Resolve to go mobile! When you make the transition to mobile charting, you pave the way to success.
What is Mobile Charting?
Mobile charting is simply the act of entering resident information on the go. Care staff enters resident data into Yardi Senior Living Suite using a mobile device. Resident data can then be conveniently and securely stored in cloud.
Why makes the transition from paper to mobile charting? We're glad that you asked. Here are five benefits to making the switch.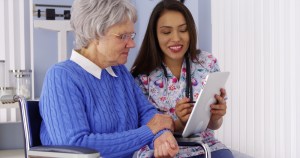 5 Benefits of Mobile Charting
Mobile charting increases care staff time with residents. When staff can't access a mobile device to enter resident data, they must interrupt their rounds to do so. That means less time engaging with residents and more time tethered to a desk. With mobile charting, care staff naturally integrate data entry into their resident visits.
Mobile charting improves accuracy and consistency of resident data. Remember how staff scurries between residents' rooms and office computers to enter data? In the shuffle, they struggle to remember details from one visit to the next. This may result in inaccuracies and missing data. With mobile charting, there is no lag time between receiving and entering data. Immediate record keeping results in greater accuracy and better care for residents.
Mobile charting enhances accountability amongst care staff. With paper charting, it isn't always easy to tell who altered a file or when. When a staff member logs into Yardi EHR on a mobile device, their contributions to resident files are marked with a date and electronic signature. The automatic features enhance accountability and record keeping.
Mobile charting protects resident data. Sheets of paper cannot secure residents' sensitive data. Improve data security by having information stored behind several layers of protection.
Mobile charting provides data on demand. Once entered into the system, resident data is securely stored in the cloud. Authorized parties can then access client data whenever, wherever. Staff, residents, and their authorized loved ones enjoy clear communication and transparency.
Learn more about the benefits of Yardi Senior Living Suite! Download the brochure.