Attracting Renters
By Yardi Blog Staff on Dec 26, 2019 in Uncategorized
The Bronx, Brooklyn, Manhattan, Queens, and Staten Island: together, they make up the most vibrant city in the world. But New York needs no advertising. Any New Yorker will tell you that each of the five boroughs has its own unique charm. So, what do renters expect when looking for an apartment in NYC?
We compiled a short list of tips to attract potential renters in the Big Apple.
Keep it clean
Looking for an apartment that's in move-in ready condition is a priority for most people looking to rent in New York City. As such, hiring regular, professional cleaners for the entire apartment building can do wonders to attract new renters. It also shows those who already live there that the building management looks out for their well-being. Make sure any maintenance issues are handled before a showing—no matter how small.
Keep it safe
Whether it's Brooklyn apartments for rent or apartments in Queens, feeling safe in the city that never sleeps is paramount for renters. This is why ensuring the safety of the premises is crucial. No matter whether your renters are in it for the long-term, maintenance support is key. Moreover, regular check-ups and upgrades to security systems and locks are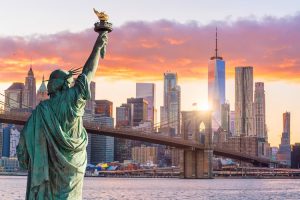 essential.
Keep it close
Proximity to work, school, or anything of importance to the renter is an amenity most NYC renters would be willing to pay big bucks for. Once a prospect shows interest in your rental, it's most likely because they are happy with the location or are willing to compromise.
In NYC, proximity to public transit is one of the top criteria renters use when searching for apartments. Advertise convenient transportation options near the property's location, but always be honest. Staten Island might be just a ferry ride away, in theory, but, for renters who are new to the city, go the extra mile and give some pointers about public transportation.
Keep it green
It might seem like green amenities still carry the stigma of niche features that cater only to a narrow demographic. While the millennial renter segment is interested in green living, having an environmentally friendly property is attractive to many people.
Most often, such features include energy-efficient appliances, updated insulation, and selective garbage bins. Specifically, clearly marked selective bins are a great way to signal that your property is environmentally friendly when a prospect tours your property.
Green alternatives can range from paperless billing to urban gardening options for those interested in growing their own fruit and vegetables. Or, promote low utility costs with low-flow showerheads and energy-saving light fixtures. It's up to you to rethink your strategy and introduce green alternatives that benefit both the property and its dwellers.
Keep it healthy
Health and wellness amenities are no longer limited to resorts and hotels. And, they don't have to be exclusive to high-end apartment buildings in Manhattan, either. But you don't have to go out of your way with juice bars, whirlpool hot tubs, or outsourced spa staff. Rather, a community pool and a gym can go a long way—especially if it is membership-based, which implies exclusivity and promotes safety. Or, add an activity center that can double as a yoga studio and art therapy workshop; then, you've got yourself a nice place anyone would love to have access to.