Tidy Offices
By Adina Rogoz on Sep 17, 2019 in Technology
One of the disadvantages of working in an open office space is that not everybody likes to clean up after themselves. Many have the bad habit of eating at their desk, so there will most definitely be crumbs on the carpet. Rainy days result in dirty shoes. Somebody celebrating their birthday can leave a trail of confetti on the floor and just like that, the whole space can be a mess in just a few minutes. But what do you do when you have a visit from your customers and the place needs to look sparkling clean, but the cleaning crew isn't coming before they arrive?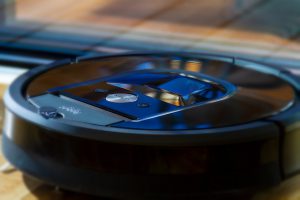 Robots Will Save Us
This is when 21st century tech comes in handy. By using IoT technology, an intelligent robot vacuum cleaner concept was created for smart offices. Each of the robot vacuums has a different approach to cleaning. Some are methodical, while others may move around randomly, which can be a bit confusing, but in fact, they're mapping the whole surface with in-built cameras or other smart sensors. Some of these devices are controlled via a mobile app that allows you to schedule the cleaning sessions and access status, battery and alerts through your phone, while others come with a remote control that allows you to direct the device to the exact spot you want them to clean.
One such example of commercial indoor robotic vacuum designed specifically for office buildings is using an intelligent booking system in Outlook to schedule the automated services. The robot creates and updates its program in real time, considering existing bookings made in Outlook. In addition, the device analyzes when one room was booked and plans its next cleaning session so those conference rooms are always clean for the next meeting or event. The only thing that people need to do is to leave the doors open. When it's done vacuuming, the robot returns to its charging station by memorizing its way back via a virtual map.
Makita DRC200Z
The Makita DRC200Z brushless robotic vacuum is designed especially for commercial environments. It comes separately from the batteries and charger. The battery-operated device features a BL™ brushless motor and it covers approximately 5,380 square feet of space. It can operate for up to 200 minutes of continuous operation in the "main brush plus vacuum" mode. (This mode is used for large debris and small particles, while the "main brush only" mode is used for large debris.)
The robotic vacuum also includes a timer, remote and two navigation options to set depending on the number of obstacles. "Pattern Navigation" is used for larger spaces with few obstacles and "Random Navigation" for spaces with multiple obstacles. The detection sensor uses technology that communicates floor conditions such as obstacles, cliff avoidance or boundary tape lines.
Weighing Your Options
The advantages of a robot vacuum cleaner include:
intelligent mapping
Wi-Fi connectivity
programmable cleaning schedule
auto return
tight corner cleaning
spot cleaning
limited mobility assistance
Disadvantages:
cost
risk of getting stuck
frequent emptying required (5/8 gallon dust tank)
battery drain
ineffective on stairs
While robot vacuum cleaners won't eliminate the need for human maintenance, their potential to reduce human involvement is high and results in reduced long-term costs.
Learn how you can automate and streamline maintenance across your entire portfolio with Yardi Facility Manager.