Rollouts That Rock
By Nik Edlinger on Jun 16, 2020 in Technology
For senior living communities, rolling out a new system interface is no simple feat, especially for a service as crucial as electronic medication management. And when you consider that pharmacy partners must be involved too, it's not hard to see why implementations are often tricky.
But that doesn't mean they can't go smoothly.
Our Yardi eMAR team has years of hands-on experience in software implementation and building close relationships with both community and pharmacy staff. Where other software vendors may cut the pharmacy out of the process, we prefer to show caregivers how things work with a representative from the pharmacy right there with us.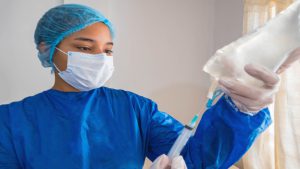 Implementation collaboration
We've found that bringing everyone on site for the initial implementation helps the communities and pharmacies understand the workflow better. Since they can walk through the processes together, they get a clearer view of how the other side handles a medication order.
Of course, if issues crop up down the road, we're always happy to help out. "Yardi is always extremely responsive. I get answers very quickly and action very quickly," said Taylor Smalling, manager of account support and enterprise projects at Guardian Pharmacy Services. "That enhances the quality of the relationship and helps build trust."
Guardian, the nation's third-largest long-term care pharmacy, is part of the Yardi Pharmacy Network. We've integrated their pharmacy software with Yardi eMAR for real-time medication information sharing and automated prescription fulfillment. So when it comes time to implement the interface at a new community, the setup is much simpler.
"With Yardi, we are usually in touch with one or two people. We can work with them directly to get all of the interface components set up," said Taylor. "It's a really efficient process, and I think it pulls in the right people at the right time."
Go-lives that go well
We recently had a couple projects with communities for Guardian that were primed for success from the start, thanks to our partnership and eMAR interface.
One senior living provider based on the East Coast was looking to have 17 of their communities interfaced with Guardian's pharmacy software by July. We looped Guardian into the request immediately and built out a timeline that would allow us to do multiple go-lives a week, all with one pharmacy.
"We really didn't run into any issues, because we already had a lot of the integration set up," said Taylor. "If there had been more pre-work, just fitting them in by the end of June wouldn't have been an option. That would've been an exercise in going back to the customer and changing expectations."
Out here in California, Guardian had another rollout that went off without a hitch. The provider had a few communities that had been using ALMSA eMAR for years, but caregivers were still printing out their medication administration records to use while charting. When the decision was made to upgrade to Yardi eMAR, there were some concerns that staff would continue to use paper despite it all.
But that wasn't the case!
"I've been checking with the team on a weekly basis, and they have nothing but good things to say about the Yardi implementation. They have touted the training Yardi provided. They have touted the way Yardi has been running the calls and communicating to the pharmacy and community," said Taylor. "We're excited about the change in direction, and we think they've been set up now for success."
Join the Yardi Pharmacy Network
If you'd like to learn more about interfacing with Yardi eMAR and streamlining rollouts with your client communities, email us or call (800) 866-1144.