Rise of the Digital Assistant
By Erica Rascón on Jan 16, 2020 in Technology
Google anticipates that there are more than 20 billion devices connected to the internet of things and the digital assistants that manage it. This increase in connectivity has a dramatic impact on how people interact with their living spaces. Forward-thinking multifamily firms are capitalizing on the new technology and getting ahead of the curve.
Renters + Their Digital Roommates
Digital assistants like Alexa have become endeared members of American households. They wake us up in the morning and get us started with a pot of coffee. They play our favorite songs while we're getting dressed and tell us when it's time to take the kids to school. They also tell us jokes when we're bored. (Fun fact: Alexa told over 100 million jokes in 2018.)
Always cheerful and increasingly helpful, digital assistants have rapidly grown in popularity. About 16 percent of Americans own a smart speaker, which is quite impressive considering that the technology is only four years old.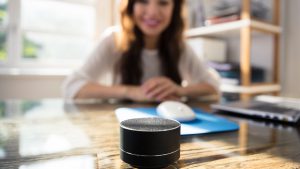 As of January 2019, Amazon sold more than 100 million devices with Alexa onboard, including 28,000 smart home devices from 4,500 different brands. Alexa speaks seven languages and added new customized user experiences for residents of Australia, New Zealand, France, Italy, Spain and Mexico. She offers 70,000 skills to make daily life more convenient. CNET reports that owners are so satisfied with her performance that the number of households with multiple Echo devices doubled in 2018.
Digital assistants and smart home technology are here to stay. The value that they can add to the resident experience makes them a worthy investment for multifamily properties.
Optimize Rent Lift with Digital Assistants
Renters are among the millions of people who use digital assistants daily. Demand drives the trend of integrating smart home technology into multifamily properties: the 2019 Multi-Res Tenant preference survey, sponsored by Yardi, showed 31 percent of renters prefer a home with automation amenities.
Smart home technology is now a competitive differentiator that bolsters revenue and NOI. "Residents equate efficiency with quality," said Masa Hoshino, product manager at Yardi. "Prospects and residents increasingly care about convenience and experience. Integrating smart home technology is a tool for sales and retention."
The RENTCafé Resident Services Alexa Skill expands the value of digital assistants for renters. The program customizes the convenience of home automation to the multifamily lifestyle. After securely linking their account, renters can issue commands like, "Alexa, open RENTCafé," and complete tasks such as "Alexa, ask RENTCafé to pay my rent."
Watch the RENTCafé Resident Services Alexa Skill video to learn more.
This service enhances how renters already use digital assistants. Thermostats, lights, locks and security monitors are just a few of the popular smart home features that residents already value. Residents can control these features via apps and voice commands.
"The demand for smart apartments is increasing," said Patrick Lawler, director of product development at Yardi. "This Alexa skill helps property management businesses stay competitive by offering convenient and intuitive resident service options. Renters can ask Alexa to handle important tasks for them, without having to sit down at the computer or place a phone call."
Read more about RENTCafé Resident Services Skill for Alexa.
The future is bright for smart home technology. Global News Wire reports that the global smart-home-as-a-service market is forecasted to bring in about US$ 10.9 B in revenue by the end of 2025. Renter adoption rates continue to climb, motivating many multifamily firms to offer digital assistants as move-in gifts.