Tech for the Win
By Lee Ann Stiff on Aug 5, 2021 in Technology
If you're like many multifamily operators, the technology you thought would be "nice to have" became "must have" when COVID-19 hit. With those must-have contactless services and automated transactions in place, companies are now asking, "what's next?" to move business forward.
To answer that question, we talked to Chad Munitz, vice president of development at Towne Properties, Jennifer Price, director of systems at Walton Communities, and Greg Slang, executive vice president of asset management at KETTLER, about the metrics they're focusing on in 2021, and how it's shifted the way they do business. The bottom line: They can still improve net operating income beyond rent increases by reducing expenses, increasing efficiencies and leveraging new technology in their operational processes.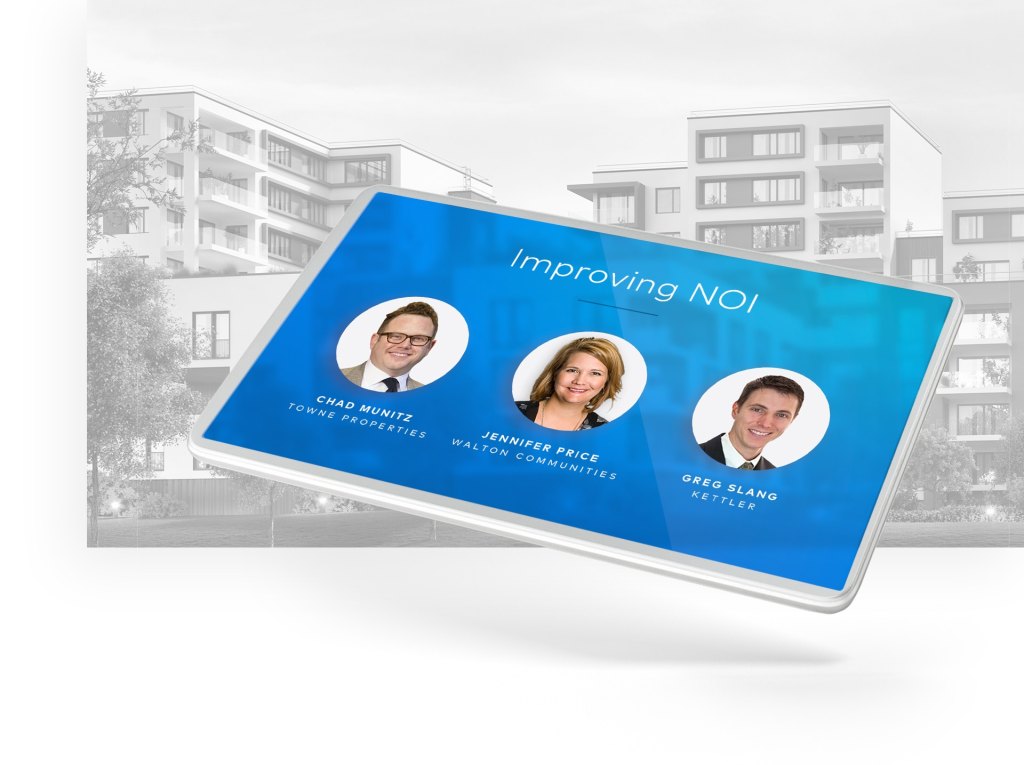 Keep reading to hear their stories and get some ideas to incorporate in your business.
Virtual tours and online leasing
According to Munitz, Towne prides itself on being a high touch management company — and technology has increased its capabilities to offer more to its residents. With the onset of the pandemic, Towne quickly provided more contactless services.
"When the pandemic started, one of our initial fears was how do we keep those relationships and touches going with all of our residents. It allowed us to figure out the services we wanted to roll out quicker — including allowing people to pay rent online and sign leases digitally. We really started focusing on a centralized leasing and management process and honed-in on some of our urban properties where we were seeing the most negative impacts of the pandemic in terms of revenue. So, we centralized all our leasing and management at one location and implemented technology to support it. We were as in touch with our residents as we were before, and we increased ways for them to communicate with us," said Munitz.
Walton was close to 100% paperless at its properties for leasing and renewals, which was a great start heading into the pandemic. For its affordable housing, Price said the company had to be creative, and tech has played a central role, including virtual tours and video calls. "It also gave us a chance to push online payments, which have become even more important during the pandemic. We were able to drive adoption up at some of the more reluctant properties, and they continue to be paperless today," said Price.
KETTLER's Slang agreed with Munitz and Price on the key role of tech to keep business moving. "We were looking at the issue of trying to solve some our smaller properties in terms of staffing. We got into virtual and self-guided tours about a year ahead of the pandemic. The touchless self-guided tours were very helpful. Residents can get in and see the units without interacting with our staff, and that keeps our staff safe, too. Our biggest investment was in virtual tours, including great photography — and these tours have been key to successful leasing and have had the biggest positive impact we've seen on our leasing so far."
Centralized multifamily operations and support
Every multifamily operator knows that when prospects and residents want to communicate with you, it might not be during regular business hours. Using tech to centralize and automate leasing and maintenance requests around the clock will keep business moving and provide a great customer experience.
According to Munitz, "We needed a way to control our expenses while still being able to serve our customers for increased hours, and a centralized office that acts sort of like a call center solves that. Our prospects and residents don't realize they're talking to one office, because they communicate with someone who knows their community and all its nuances. On the maintenance side, our focus is also staffing out of that centralized office and getting more people who are specialized to work across our properties, instead of generalists. Again, our prospects and residents are unaware that they're talking to a centralized office — they feel they're talking to someone at their community who really cares."
At KETTLER, AI chat is part of the company's enhanced service offering. "AI chat is another technology we've rolled out at a faster pace because of the pandemic," said Slang. "It's amazing how good it is, and even when you know you're talking to a robot, you can feel like you're communicating with a human — and that's been exciting."
Maintenance tools and mobile apps
At Towne, hiring maintenance pros with expertise in plumbing, electrical and HVAC is key. "Our specialists are using their time more wisely, and we equip them with mobile maintenance apps and scheduling tools, so they have more visibility into how they're closing out work orders. We're seeing greater productivity from labor hours. This is having a positive impact on not only our operational expenses but also has improved the experience of our prospects and residents," said Munitz.
Slang and Price agreed with Munitz that it's important to ensure the technology that improves operations is also enhancing the customer experience. Price commented, "The more we can do and the quicker we can do it to build rapport, the faster we can lease to a prospect and respond to a resident's needs, including maintenance requests. So many of us are using apps to work fast now. Happy residents are invaluable. The more satisfied your residents are, the higher your revenue is going to be."
Keys to resident happiness
To make sure its residents are happy, Walton has recently started tracking its Net Promoter Score (NPS). According to Price, the NPS is a worldwide metric that companies use to measure their customer satisfaction. Walton tracks its score based on surveys and then gives each property a score from one to 100. "We trend really high on renewal percentage. An increase in our NPS leads to not only higher resident satisfaction but also to increased renewals and lower turnover — and higher revenue. We can easily tie satisfaction to our call answer rate," said Price.
KETTLER's internal studies are proving that where they've implemented virtual leasing tech, there's a roughly 10% increase in leasing compared with their properties that don't have it. "I think it all equates to when someone is ready to lease. If they get an immediate answer to their inquiry, they're more likely to move forward and sign a lease. But if they have to wait for a response, they might move on to another website and end up leasing at another property. So online leasing is here to say, and we're really excited about that," said Slang.
Munitz agreed and commented that technology isn't something Towne is trying to push on residents — rather, they're delivering the things that people want and expect. "It's making all our lives easier," said Munitz. "It's really about making residents happy, at the end of the day."
Ready to improve NOI?
As Towne, Walton, and KETTLER have discovered, using technology for all aspects of multifamily operations can reduce expenses and increase efficiencies, including more responsive resident services, to grow NOI. Consider these top three strategies for your business:
1) Online leasing including self-guided tours
2) Centralized maintenance including mobile apps
3) 24/7 customer support including AI chatbots
Do you have a mobile property management platform to bring everything together? Learn more about the Yardi Multifamily Suite to connect your operations and drive better results.