Mobile Maintenance
By Erica Rascón on Dec 22, 2014 in Technology
Mobile tools are all about immediacy and action — and when it comes to maintenance, that means responding more quickly, entering and completing work orders from the field, and getting real time updates to ensure the right work is done at the right time.
Yardi Maintenance Mobile offers the convenience of creating,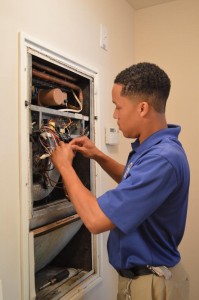 updating and closing work orders from a mobile device, with the ability to include photos and notes as well as add technician labor and inventory to work orders — and the information is automatically updated in Yardi Voyager®.
For Wesley Fonseca, maintenance technician at Post Glen near Atlanta, Ga., Maintenance Mobile has been a game changer. "I've seen my time management get so much better with Yardi because of how I'm able to access the work orders on my smartphone. Maintenance Mobile has helped me save time in that I don't have to print the work orders. I can map out my whole day and give certain spaces for emergencies and that sort of stuff. I have the ability to add and drop work orders, and sign them off in the field. Also, being able to have what I need at my fingertips, right on the spot, has helped me be more time efficient."
In addition to improving efficiency, mobile tools help improve retention by providing great service to residents and tenants. "Maintenance Mobile is a good selling point as far as the residents are concerned because everything is so technologically advanced now. They expect to see technology in use," Fonseca says. "The residents have their place where they can put the different time of whatever day that they prefer for us to visit. They like being able to submit requests online, have us receive them, and then fix things and document them in a timely manner. They just love it."
The benefits of Maintenance Mobile do not end there. Here are the top ten benefits of mobile maintenance:
Save time. Staff spend more time doing their jobs and less time filling out paperwork, making calls, and driving (no need to go to the office to pick up or submit paperwork)
Reduce paper. No more paper forms or printing, thanks to online work orders and digital signatures. This cuts costs and also meets green initiatives.
Respond faster. Communicate with residents, tenants, managers and techs, pick up and update work orders right from your mobile device.
Prioritize better. Know instantly what the high priorities are every minute of every day, with access to photos from the site and work order entry notes.
Get real-time updates. Supervisors, staff and techs can view current updates on a centralized online calendar.
Drive less. No need to drive to the office to pick up or drop off maintenance paperwork, and no unnecessary site trips when requests are rescheduled or cancelled. Online directions with mapping, along with resident contact info, help ensure no time is wasted getting lost.
Track everything. And everybody, with up-to-the-minute status reports and audit trails on assigned and unassigned work orders and employee whereabouts, including emergency responses, and follow them to completion.
Get accurate reports. Time-sensitive reporting provides business intelligence and better oversight.
Improve productivity. No more sitting at your desk and starting at your computer. Get out it in the field and get more done with your mobile device while interacting with your staff, residents and tenants.
Save money. Paper, gas, and wasted drive time costs money — and above all, failing to respond to urgent maintenance requests in a timely manner can result in much more expensive repairs and also increase costly move-outs.
Now you know ten of the most compelling reasons to take your maintenance mobile — and why using a solution that works seamlessly with your property management and accounting system will yield the multiple benefits. Perhaps greatest of all, your onsite staff will have the time and resources to focus on greater priorities than maintenance, such as sales and retention. "When we have the tools to manage our time well, we all have time to do things that are above and beyond, not just catching up with maintenance emergencies," explains Fonseca.
Yardi Maintenance Mobile supports iPhones and iPads, Android phones and tablets and BlackBerry smartphones, and is available at Apple iTunes App Store, Android Market, and BlackBerry App World.